Still sick and miserable this Bullet Sunday. The only difference is that my nose and eyes have stopped running, which I hope means that I'm getting better. All the aches and pains are still there though, and since even slight movement can lead to agony, I spend most of my day lying in bed. That doesn't lead to very much excitement to blog about, but I'll give it a try anyway...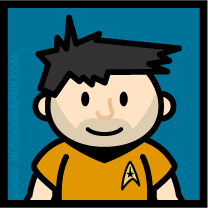 • Trekaversary... Back in 1987 I was vacationing in Maui with some friends when we found out that the premiere episode of Star Trek: The Next Generation would be airing. Naturally, we canceled all our plans and stayed at the condo so we could watch. That first episode was pretty terrible, but I was a huge Trek geek from the original series, and eventually became a fan of the new show (especially after a couple seasons had passed and the series mythology started to come together). I find it impossible to believe that this was nearly twenty years ago, and Next Generation will be celebrating its anniversary on the 28th of this month (Gah! I'm old!). My favorite Trek is still the original, but I hold a geeky place in my heart for Next Gen, and will have to start re-watching all my old videotape copies to celebrate their anniversary (Seesh, VIDEOTAPE?!? I really am old!).
• Sesame... You know how when you are sick, you start craving certain foods? For the past two days I've been wondering why America hasn't embraced sesame seeds for snack-foods as Europe has. While I was in Greece, I became addicted to these amazing thin pretzel sticks that had sesame seeds on them. In Germany, I had goldfish pretzel crackers with sesame seeds on them. Sesame is everywhere over there. Yet, back in the USA, about the only thing I can find are Pepperidge Farm "Snack Sticks" and some crappy sesame crackers. But they're not the same, and I wants me my sesame-pretzel sticks! I guess I'm going to have to enslave a Keebler elf or something.
• Stolen... A couple days ago when I was talking about people stealing my stuff, I forgot to mention the incident which got me started on my rant. It was when a guy stole, in its entirety, my Blogography Gangsta rap: Bitch Got Three Spaces. The only thing he changed was the "Lyrics and Music by" and "Sung by" credits, where he just slapped in his own name on my work. The problem is that he didn't replace the final line of the lyrics...
Laughin' my ass off as I pass,
Thankin' digital photography.
Makin' yo inconsiderate ass famous,
Postin' dis shit on Blogography.
I guess the guy couldn't be bothered to come up with their own rhyme for "photography." Naturally, this made his theft easy to find, and I fired off a comment asking "Why would you post dis shit on Blogography when that's not even your blog?... oh, that's right, it's because you STOLE IT FROM BLOGOGRAPHY!" He never responded, but he did delete his stolen entry and put his blog on hiatus. No big loss, apparently he didn't have anything to say anyway.
• Captcha... These things are getting insane. Half the time I can't even guess anymore...

• NBC Redux... In response to Apple's recent press release, NBC prez Cory Shields fired back with a bunch of stupid crap that makes me loathe this network with a passion. My favorite line? "The typical iPod contains a significant amount of illegally downloaded material." Which means he's basically calling anybody with an iPod a thief. Well Mr. Shields, do you know how much illegally downloaded material is on my iPod and iPhone? Zero. Nothing. Everything there is 100% legally purchased. So go fuck yourself. Sideways. You have to be one of the stupidest people on the planet. Calling your potential customers thieves is such a great way to encourage them to want to do business with your company. If the NBC board doesn't fire your stupid ass, then they're even bigger morons than you are.
And now it's time for me to take my third nap of the day. Every time I get some sleep, I wake up feeling better, so maybe that's the key? Too bad I can't just lapse into a coma until this is all over with.