Well crap. Mike Wieringo has died.
I'm a regular reader of his blog, and loved the way he treated his fans to numerous sketches and drawings on a regular basis. So imagine my shock and sadness when today's entry was a notice that Mike had passed away.
I realize that 99% of people are going to be saying "Mike Wier-who?!?" and have no idea who he is, but to comic book fans, this is a crushing blow. Mike Wieringo was an incredibly gifted artist who I envied on just about every possible level for his talent. If I were to describe his drawing style, I think "economical" sums it up nicely. The guy had this uncanny ability to use just the exact amount of line-work necessary in his art, and was never compelled to scribble in anything unneeded to camouflage his shortcomings... mainly because he didn't have any shortcomings. This stylistic approach gave him a beautifully clean style of drawing, which he enhanced with an exaggerated perspective that made everything he drew leap off the page...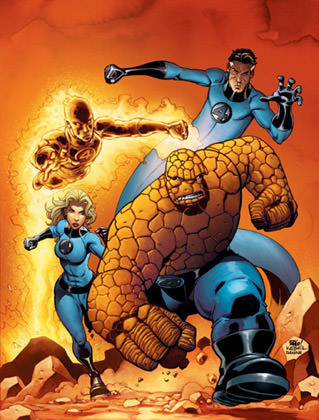 Mike's Art for Fantastic Four #509
My favorite work by Wieringo was his collaboration with Mark Waid on The Fantastic Four. I treasured every issue they worked on, and consider their run to be among the best FF stories ever made... right up there with the Lee/Kirby originals. I've re-read my trade paperback collections of those issues numerous times, and it is never lost on me just how much humor, imagination, and humanity that Wieringo managed to inject into those stories. Boy will he be missed.
I'm feeling lazy, so it must be time for... One Sentence Commentary!
The new iMacs... Sublimely beautiful, fairly powerful, and ultimately well thought-out.
The new Apple keyboard... Initially confusing, ultimately delicious... I love mine!
Karl Rove is retiring... Good riddance, you evil fucker.
John From Cincinnati cancelled... Did anybody like this horrible mess of a show?*
Merv Griffin dies... "So I came to Europe to kill... and it's really worked out very well for me!"
SCO doesn't own Unix... Sucks to be you, losers!
Ta dah!
Ugh. I am really, really behind in my blog reading. And my email. And my work. And my comics. And my television shows (BURN NOTICE!!). And my snail-mail. And my laundry. And my life, I guess. Where does the time go?
*And wasn't that like the WORST season-ending episode ever? I still think that John Monad was actually Shaun Yost from an alternate-reality future with a scrambled brain, but that's just the comic book geek in me talking.