Home again, just in time for Bullet Sunday!
Today, on a very special episode of Blogography, Bullet Sunday is overtaken by a new meme started by Lewis over at Spirit of St. Lewis called Highlights That Shaped Your Life. Lewis is curious to know about those once-in-a-lifetime moments where you just know that "this is one hell of a special time." Here are ten of mine that come to mind...
1977 • Seeing Star Wars for the first time... Seriously, what geek saw Star Wars back when it was first released and didn't feel as if their life had changed?
1978 • Reading Edgar Rice Burroughs' A Princess of Mars... Science fiction was a random encounter until I read the first book of ERB's John Carter of Mars novels. After that, I was obsessed. I devoured science fiction in every form I could find it. My obsession would solidify after I read Frank Herbert's Dune, one of the most mind-blowing science fiction epics ever written. Sci-fi is now such a huge part of me, that I cannot imagine my life without it.
1979 • Buying Green Lantern #121 and The Flash #277... While out of my mind with boredom one day, I wandered downtown with $1 and no plans. I ended up buying my very first comic books so I'd have something to read. Thus began my lifelong infatuation with collecting comics, a hobby that has brought much entertainment to my life.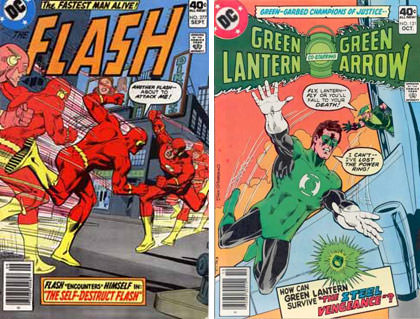 1983 • Visiting New Orleans for the first time... I won a high school DECA competition and got to go to New Orleans... completely unsupervised... for a week before my senior year started. This resulted in many "first" experiences, which very much shaped (mis-shaped?) my life.
1987 • Visiting my first Hard Rock Cafe... While vacationing in Maui with some friends in the late 80's, I happened upon my first Hard Rock Cafe. Needless to say, this had a profound affect on my life, as I've spent a great many of the years which followed visiting Hard Rocks around the world (current count: 106 properties). Though drastically outdated, I keep a journal of my Hard Rock obsession at DaveCafe.
1996 • Visiting Japan for the first time... My first "real" trip outside the country was all by myself to Tokyo, which is about as foreign a culture as you can get from the US. I had already fallen in love with Japanese comics (manga) and animation (anime), but it was embracing Japanese culture... even for such a short time... which sparked my love of travel that continues to this day.
1998 • Visiting Thailand for the first time... Of all the places I've been and seen, no one place has had a more profound affect on my life than Thailand. This was the trip that introduced me to Buddhism, a way of thinking which changed e-v-e-r-y-t-h-i-n-g.
2003 • Starting up Blogography... This is one of those rare events where you don't understand the significance of it until much later. I had been a blogger off-and-on for three years before I finally made a serious attempt at it back in April of 2003 (after a Blogography false-start in March 2002). Who knew?
2005 • Standing on the Great Wall of China... A life-long dream was realized when I, at long last, walked along The Great Wall two years ago. This began a trifecta of visits to ancient engineering wonders, when I visited The Acropolis in Greece and The Great Pyramids in Egypt earlier this year. Pretty special indeed.
2006 • DaveCago... I had met with fellow bloggers before, but the blogger meet-up in Chicago last summer was my first opportunity to hang out with a group of them. I had such a great time that I started meeting up with bloggers every chance I got, culminating with the amazing TequilaCon 2007 event in Portland, Oregon. If you haven't yet experienced the joy of hanging out with your fellow bloggers, there's a new meet-up in Chicago in a mere thirteen days, and TequilaCon 2008 comes to Philadelphia next Spring!
And another Sunday bites the dust...