Everybody just loves Bad Monkey.
I had to go to the grocery store for a few things today, and was wearing my new Bad Monkey T-shirt for the trip. While I was in the cheese aisle, a little boy who was helping his mother pick out yogurt turned to me and started laughing. "Monkey!" he said, pointing at my shirt. "That's right," I replied. Then there's that awkward moment when I have to explain to his mother that the shirt can't be bought at a store, that it is one of my own creations, and isn't available in kids sizes. I just don't have room to store them.
And now I feel bad, because what kid wouldn't want a Bad Monkey T-shirt?
After cheese, I had to go buy sugar. I used the last of mine when I got a craving for Tropical Punch Kool-Aid last night around midnight. In retrospect, it was kind of a stupid thing to drink before bed, because I ended up battling a bad case of heartburn while trying to get some sleep...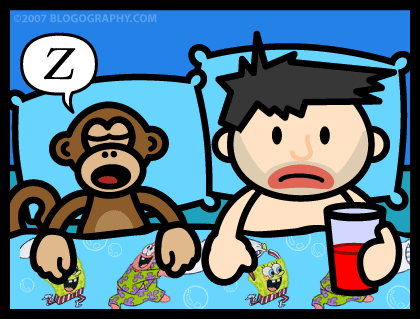 Right now I am taking a break from filling Artificial Duck Co. orders to write in my blog. From the looks of things, I only have 38 orders left to fill. Tomorrow I'll process the postage so I can send the last remaining packages on Monday, and that's that. I'll finally be able to reclaim my living room.
And stop hurting myself.
I finally injured myself with my new tagging gun yesterday. It felt very much like having stabbed myself with a large needle. Mostly because my tagging gun has a very large needle on it. Lesson Learned: If you are going to sell T-shirts and want to label them, use stickers instead of tags.
Back to work...