Wheee! It's Bullet Sunday as I try to figure out what I'm going to have for dinner tonight.
• We're On Fire! In what's becoming an annual event, the valley is on fire. Again. It was no big shock to find out that fireworks were responsible. Again. About the only surprise here is how dumbasses can't seem to remember from year-to-year that lighting fireworks in the dry brush that surrounds us will start a major fire, potentially burning down a city or two. I mean, WTF? It's EVERY YEAR!!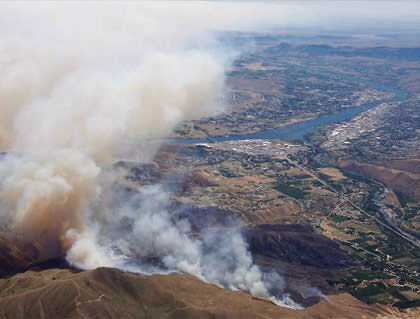 Most excellent photo by Mike Bonnicksen of The Wenatchee World.
• Seven Wonders! After a measure of controversy from Egypt, home of the Great Pyramids of Giza (the only surviving Seven Wonders of the Ancient World), the all-new "Seven Wonders of the World" have been revealed... The Great Wall of China, Petra in Jordan, Brazil's statue of Christ the Redeemer, Peru's Machu Picchu, Mexico's Chichen Itza pyramid, The Colosseum in Rome, and India's Taj Mahal. The only one I really question would be Christ the Redeemer which, while both remarkable and beautiful, doesn't seem to fit in with the rest of these marvels. I would have probably dropped it in favor of either Stonehenge, Neuschwanstein Castle, or Angkor Wat. And, naturally, I believe that no list is complete without the Great Pyramids of Giza, TRULY a wonder of the world...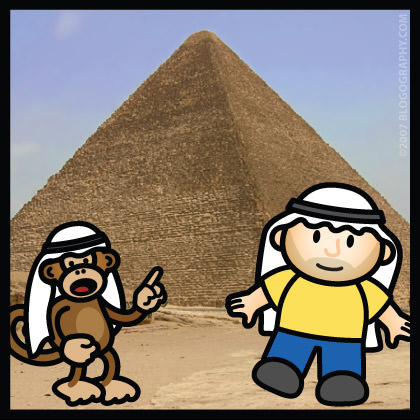 • It's Zwinky! I keep seeing these completely obnoxious television commercials for some kind of internet site called "Zwinky." Every time it comes on, I'm scrambling for the remote control so I can stop the horrible screaching... "IT'S ZWINKY! IT'S ZWINKY! IT'S ZWINKY!" Then I sit there dazed and confused trying to figure out what the frak a "Zwinky" is. I tried visiting the web site to find out, but the piece of crap isn't Macintosh compatible. Wikipedia says it's some kind of avatar site tied to a web search toolbar, which sounds lame. I've never been happier that some websites are not Mac compatible.
• Hey Whitey! I am getting tired of watching movies and television shows where all the actors have blindingly white teeth. It's very distracting, and I'm seeing it more and more often. Transformers had actors with embarrassingly white glowing teeth... like über-hottie Megan Fox... which very nearly overshadowed the awesome special effects with their unnaturally radiant smiles. Frightening.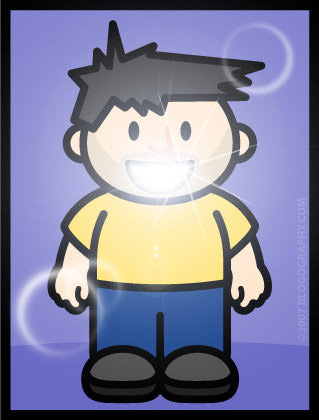 • Meet Chicago! Getting some super-sweet RSVPs from cool bloggers planning on making it to the Chicago Meet-Up on August 25th! If any of y'all are planning to come, please email me at dave@blogography.com so we can be sure we reserve enough space. This will also put you on a mailing list so you'll get the most up-to-date info as it happens.
And now, if you'll excuse me, it's time for ice cream! ICE CREAM FOR DINNER! Sweet!