I'm in a New York state of mind.
On my first trip to New York City, I had a laundry list of crap that simply had to be done... Statue of Liberty, World Trade Center, Empire State Building, Hard Rock Cafe, The Metropolitan Museum of Art, The Guggenheim, The New York Public Library, Museum of Modern Art, Times Square... and a dozen other essential tourist haunts that first-time visitors to NYC are obligated to visit. Every morning I would get up and rush around the city trying to see as much as possible before my trip was over.
The last thing on my list was to eat at the Stage Deli. This New York City institution is famous for serving insanely big sandwiches. Seriously insanely big. These things are at least six-inches tall...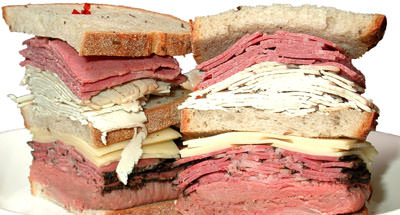 And so on the last night of the last day I walked a block behind my hotel (The Hilton) to 7th Avenue and dinner at the Stage Deli.
Where I proceeded to have one of the worst sandwiches I've ever eaten.
But I don't blame the Stage Deli. I blame myself.
It was my fault because I went there and ordered a "cheese sandwich" off the menu which, as you might guess, ended up being nothing more than a bazillion slices of American on bread. It was much like sitting down and eating a brick of cheese. And as much as I like cheese, that's just too much to take. But that's what I get for ordering something off the menu that doesn't work for how they build sandwiches. They gave me exactly what I had asked for because I wasn't thinking, so who else could I really blame except myself?
Which is why I tend to get a little upset when I do a job exactly how somebody tells me to, only to have them turn around and blame me because they don't like the result. But it happens quite often in my line of work, so I tend not to go ballistic when it happens.
Except when I'm donating my time and working for free.
Today I had somebody bitch at me because a logo I made for a charity event had too much yellow in it.
It was a drawing of a ring of stars circling a moon, which is exactly what they had asked for.
So I re-colored it with a variety different star and background color combinations, only to have them get upset because it looked "wrong" that way. At this point they told me that they had a couple of NEW ideas for a DIFFERENT logo since I was having trouble with their "vision." Biting my tongue, I apologized and explained that I am very, very busy this time of year and didn't have time to start all over. They grabbed the work I had done, gave me a terse "thanks" (as in "THANKS FOR NOTHING!") and stomped off.
And then tonight I get a call from a friend who overheard the event organizer bad-mouthing me because I promised to make them a logo and then bailed on them.
Typical.