It's time for my first Bullet Sunday at sea!
• PLAGUE SHIP! Ack. This is the second time I've been on a cruise, and this is the second time there's been an epidemic going around. Last time it was some kind of cold/flu hybrid. This time they aren't saying what's going on, but you are no longer allowed to serve yourself at the food buffets. Not even for water, which actually makes me happy. A few days ago I was waiting in line for a glass of water when the stupid bitch ahead of me filled up her water bottle, putting the mouth of the bottle directly in contact with the spout. This grossed me out because, for all I know, she is the ship's whore and there's no telling where that mouth of hers has been. She could have been sucking on something funky before sucking on her water bottle, and now the stupid whore's cooties are all over the water spout, contaminating everything that comes out of it.
• ICE CREAM DREAMS! But there is a bad side to all of this. You're not allowed to make your own ice cream cones now either. So now I have to trust some total amateur's cone-making skills at the soft-serve machine. Instead of getting the perfectly shaped ice cream cones I'm used to making myself, I now get these lumpy, malformed monstrosities that look like they were crapped out of a donkey's ass. It's probably my imagination, but they just don't seem to taste as good now. =sob!= I'll probably start dreaming that I'm ruler of Egypt, and my thousands of loyal subjects will bring me perfect chocolate-vanilla swirl ice cream cones all day long. Egypt seems to have had quite an effect on me...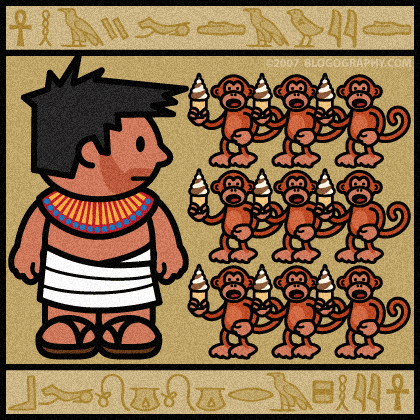 BEING BORING! Today is an at-sea day. Usually these bore me, but I'm actually looking forward to being a little bored for a while. Besides, there's a lot of stuff coming up in the final week of vacation, and tomorrow I have to be up at 6:00am again.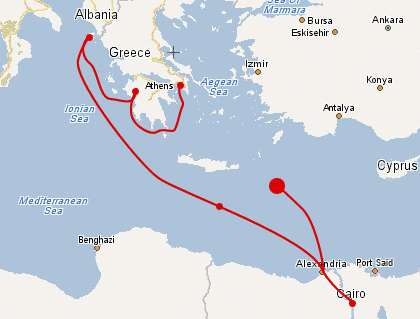 • TOUR DE ASSHOLE! I've never hidden my loathing for organized tours, but yesterday's Giza tour was a new low point. Two fucking assholes were 50 minutes late getting back to the bus at the first stop, which meant that all the remaining stops had to be compressed, and certain things I would have loved to have spent more time with were whipped through at a furious pace. Never mind that everybody else on that bus managed to get back on time. The two inconsiderate fucks didn't even apologize for screwing everybody (they probably weren't sorry anyway). It used to be that I would wish for a million dollars to fall from the sky. Now I just wish these two fuckers dead in the most painful way possible. I mean, come on... FIFTY FUCKING MINUTES?!? If I were the tour guide, I would have left their fucking idiot asses in the desert after 10 minutes so everybody else doesn't have suffer for their being complete and total fucking pricks. I despise assholes who have absolutely no consideration for other people, and tours are usually full of them.
Alas, it's time for me to retire to Deck 12 for some sunshine. There seems to be an abundance of it today...