I miss my armed military police escort.
Egypt is so reliant on tourism dollars, that they are quite paranoid about visitor safety. Just one bomb exploding at a popular tourist destination, or even a minor attack on a tour bus, would be enough to destroy tourism to the country for at least a year... probably longer. So that's why our tour bus convoy was escorted by military police, the bus itself had an armed guard onboard with a machine gun, and my quick run to the Hard Rock Cafe in a taxi caused us to be stopped twice so that the car could be inspected for bombs. The government is doing everything they can to ensure the safety of their tourists and, while a little alarming at first, you soon grow accustomed to their presence and miss them when they're gone.
Anyway, the sun god Ra saw fit to bless my tour group with a sunny day for the quick trip out of Cairo to the Giza Plateau.
I guess the two dumbass tourists I sacrificed to him this morning must have done the trick.
And yeah, the pyramids are as amazing as I thought they would be...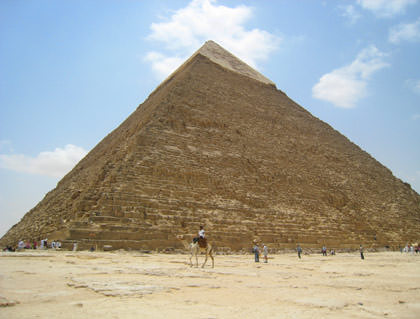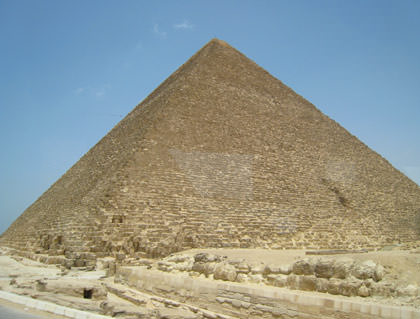 Until you look back towards smoggy Cairo, that is. It's kind of sad how close the city has encroached on the pyramids, which spoils their massive stature just a bit...
You can actually buy a ticket to climb through the center pyramid all the way to the burial chamber in the middle. It is definitely not for the faint of heart, because the passage is very small and claustrophobic. Even worse, it's really hot and stuffy, making it difficult to breathe. When you get to the chamber, there's a guide waiting inside to explain everything to you... I cannot imagine how he manages to stay inside there all day without going insane. If that were my job, I'd probably start killing people. I couldn't last longer than two minutes, and was rushing as fast as I could to climb back outside.
My favorite part of the day was getting to visit The Sphinx! He's way cool...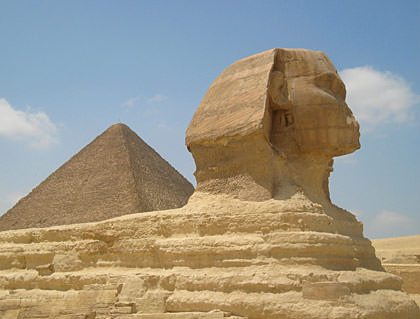 And now that I'm safely back on the ship, it's time for an early bedtime. The past two days have been so exhausting that I am actually looking forward to a day at sea tomorrow. The tour went to a cheesy light show at the pyramids last night, followed by a dinner cruise on The Nile that lasted until past midnight. This wouldn't have been too bad except I had to get up at 6:00am in order to meet the bus to the Giza Plateau.
Hmmm... I think I need one more ice cream before turning in. I suffered withdrawals while I was in Cairo for two days, and need to make up for lost frozen dairy desserts...