Yet another beautiful day in the Mediterranean, with crisp blue skies and entirely too much sunshine.
It was, of course, too good to last... because I had an organized tour awaiting me! As always, there were the minimum two idiots in the group, ruining things for everybody else. First up there was a rude, disgusting, pig who completely ignored the tour guide so he could listen to his iPod while reading a book and loudly smacking his gum like some kind of spastic turd. Along with him was a woman that I nicknamed Skanky McCrotchspreader, because she liked throwing her legs up on the bus exit banister. This not only meant that I had to see her feet every time I looked out the window, but I also had to be exposed to her toxic cootchie every time I exited the bus. They were made for each other.
But at least Gum-Smacking Pig was never more than five minutes late to the bus, which was nice.
The main focus of the tour was the ruined city of Knossos. It was okay, I guess, but I didn't like how they "improved" it by adding modern structures like sun louvers to the site, and "fixing" some of the ruins with plaster and paint. Why they couldn't have just left it in its natural state is beyond me. Still, if you like seeing a bunch of busted-ass buildings and stuff, this is the place...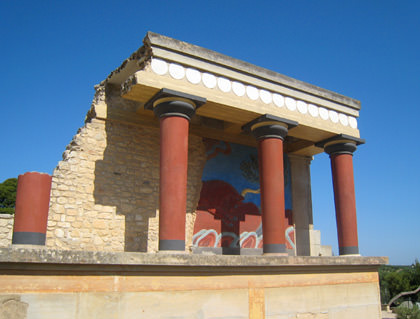 My favorite feature was this pregnant cat that was wandering around like she owned the place. I'd like to think that she did...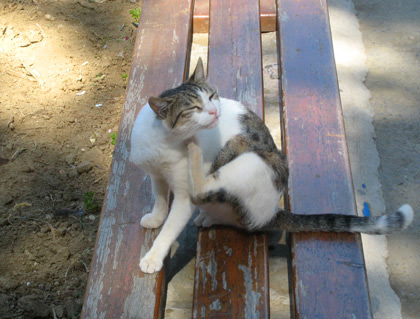 As we left Knossos to visit a manufactured tourist trap in the form of a Cretan village, Gum-Smacking Pig decided to move on from smacking gum and instead decided to crinkle a Coke can. All the way we had to listen to him popping in the sides of the can... pop pop... pop pop... pop pop... I would have liked to kick the fucking can up his stupid ass, but my shoes are still new.
The fake Cretan village was kind of charming, if you're into that kind of thing. I was a bit bored, but the weather was really great for photos. The sky was so blue that it was almost painful to look at it...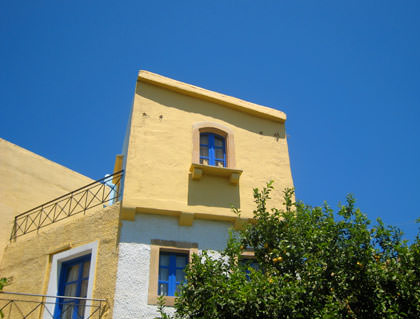 I wish that we had a bit more time to explore the Cretan countryside, as it looks quite rustic and beautiful. Even with Skanky McCrotchspreader's legs in the way...
Now that the tour is over, there is a surprising five hours left before the ship leaves port. It almost seems a shame that I don't take a bus back into Iraklion to see a bit more of Crete, but I'd rather write in my blog then take a nap before dinner.
Isn't that what vacations are for?