I have yet to figure out why I am chronically unlucky when it comes to driving karma.
You can bet your ass that if there is a dumbass on the road, he'll be in my immediate vicinity. If there is a traffic accident, it will happen right in front of me. If there is road construction closing down a lane, I'll be the one they make stop and wait. If a 90-year-old woman is out for a Sunday drive, I'll be the one stuck behind her. When it comes to being delayed, interrupted, stopped, or cut-off, I'm the guy who is going to be selected by the driving gods to get shafted.
And it's always when I'm in a hurry.
Today I had to run home really quick before I left for the movies. Naturally, a train decided to pass right as I got to the crossing...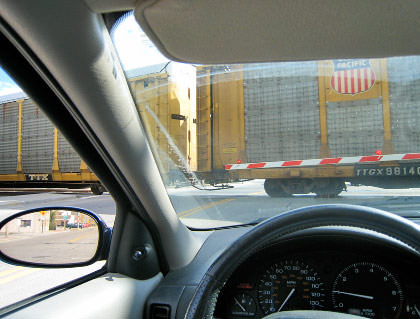 Once I finally got past the crossing, a fruit truck going 15 miles under the speed limit pulls out in front of me...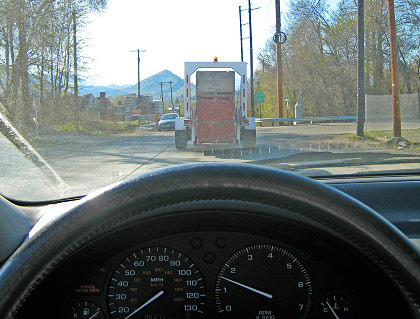 After I got home, dropped my stuff, and finally made it out to the highway, a State Patrol car decided to pull out as well, which meant speeding to the theater to make up for lost time wasn't an option (forgive me for not including a photo, but something tells me that the State Patrol frowns upon taking photos from a moving car going 60mph on the highway... especially when it's the driver doing the photography).
Typical.
But somehow I made it to the movie on time, which is where I got to watch the greatest film released in recent memory, BLADES OF GLORY!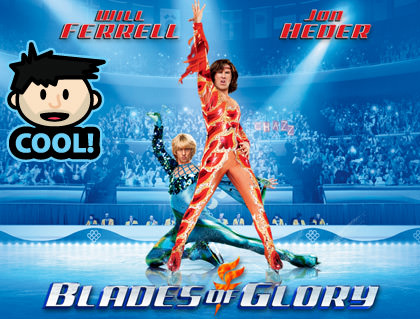 Forget 300, Last King of Scotland, The Queen, Zodiac, Blood Diamond, and even Ghost Rider, THIS is the movie which will stand the test of time! I'd put it right up there with The Godfather and The Terminator in terms of greatness!
Okay, maybe not. But it was a lot of fun, and much better than I expected...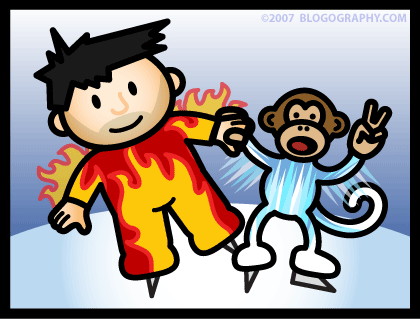 I just can't figure out why nobody has thought of building a comedy around double-men pairs skating before. It's a brilliant concept. Will Ferrell, Jon Heder, Amy Poehler, Will Arnett, and Craig T. Nelson were all perfectly cast in their roles... but I'd have to say that it's Jenna Fischer who will end up with an Oscar nomination out of this film. She has a lingerie scene which will have people completely forgetting her mousy "Pam" character from The Office. Who knew?
Bring on Spider-Man 3.