I'm tired. I'm hungry. I'm irritable. And it's time for Bullet Sunday!
• Driven. You're driving back from the Seattle over the mountain pass with your iPod set on shuffle and piped into the stereo. Suddenly the rain stops and the sun starts to come out. Everything is fresh and green and the air smells as if the world is brand new. Then Etta James' beautiful voice comes over the speakers singing At Last, and suddenly you realize that you're glad to be alive. For a few minutes anyway. Then some moron pulls in front of you going 10 mph under the speed limit and you're stuck behind them for 20 minutes wanting crash into their stupid ass... not even caring if you survive, just so long as they die in a ball of fire. Isn't it strange how life can turn on a dime like that?
• Panera. I took a photo of my most favorite sandwich at Panera Bread yesterday. Behold the glory that is The Mediterranean...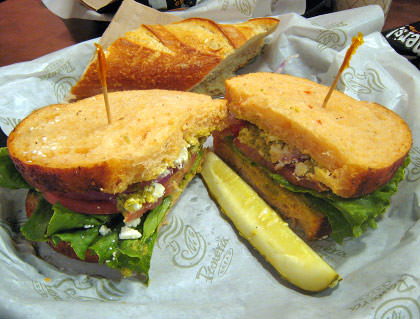 I wish I had another one right now, because the only thing I have to eat here at home is chocolate pudding.
• Leopard. Apple announced that the next version of OS X, code-name Leopard, has been delayed four months, moving to an October release date. This is a bit of a shame, but better late than Vista. At least I'll have my iPhone to keep me occupied come summertime...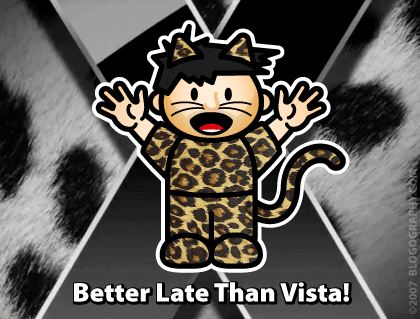 • Repaired. Finally scraped the money together to have Saturn repair all the damage that Midas did to my car when they "fixed" it last. Sure I'm poor now, but at least I don't have to stare at that stupid "Service Engine Soon" light anymore. Not having my car backfire when I turn the engine off is pretty sweet too. If only Saturn would have installed rocket launchers and a flame-thrower, the ride home wouldn't have been quite so bad.
Now it's time for dinner. Looks like it's going to be chocolate pudding and a can of 7-Up tonight.