Make a joyful noise for Bullet Sunday has risen!
• Easter... I gave up celebrating Easter around the same time I gave up being Catholic (almost 20 years ago now!) but still love the holiday for one very good reason: the candy. I absolutely love Easter candy. From having my teeth shiver as I bite into the sweetness that is a Cadbury Chocolate Cream Egg... to getting some of my favorite candies in egg shapes and pastel colors... Easter is a candy-lover's dream come true. In many ways, I'm thinking it even eclipses Halloween in terms of confectionary importance to me now...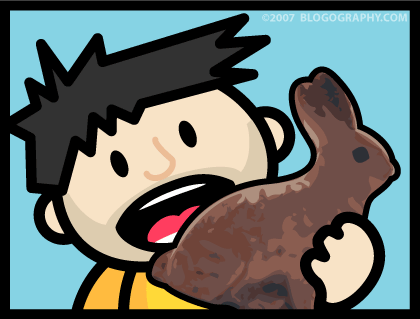 Nothing wrong with getting a little tail on Easter.
Which is probably why I'm choosing to celebrate the holiday by lapsing into a chocolate coma.
• Voicemail... ABC Television has an amazing new video player on their site which, get this, IS MACINTOSH COMPATIBLE!! As if that weren't cool enough, you can watch full episodes of sweet ABC shows like Ugly Betty and Grey's Anatomy. But here's the best thing... they have an original online series called Voicemail that's priceless...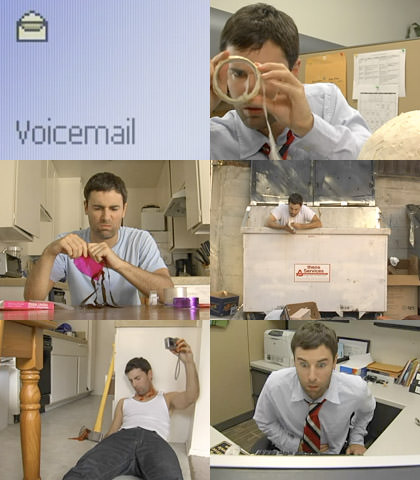 Mike is a character that just about any guy can relate to at some point in their lives.
For best effect, you'll want to go to ABC.com and choose their New Video Player. But you can also access the webisodes in the old Flash player format from the Voicemail web site (which is also funny). This is one of those rare online series that is actually worth your valuable time. I hope they sell the episodes at iTunes after the first "season" is over, because I would gladly pay money to have this show saved on iTunes for a rainy day when I need a laugh.
Of course, this being ABC, they will undoubtedly cancel it half-way through the current season and we'll never see it again. It's what they do.
• Three... There is no bullet point three. Move along.
• Flash!... Ever since seeing Blades of Glory, I've had Queen's brilliant Flash Gordon Theme playing in my head. Depiste the poor reviews, I always liked the 1980 Flash Gordon film... largely due to the funky visuals, excellent film score by Queen, and the sweet hotness of Melody Anderson. I bought the soundtrack album long ago on vinyl (long since lost) but lucky for me it's available at the iTunes Music store. Sweet! I also note that one of my favorite videos, Radio Ga Ga, is also available. The song has never been one of my favorites, but the epic dream-like quality of the video is a winner...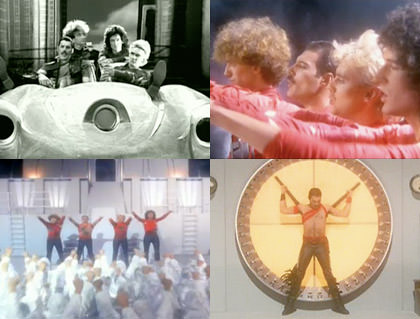 Freddie looking fierce, fabulous, and very gay wearing leather pants, feathers, and a sash.
• Extracurricular... Why is it that every time I turn around, there's another teacher being busted for sleeping with their under-aged students? And, even more importantly, why wasn't this part of the educational curriculum when I was in school? Granted, there were very few of my teachers I would have wanted to sleep with, but I can think of one or two that I'd have gladly let tutor me in some after-school sessions. Just think of the embarrassment that could have been avoided in fumbling to remove that first bra had a teacher been kind enough to show me how it's done! That being said, you would think that the penalty for violating the trust of parents who put their kids in a teacher's care like this would be death. Of course, I'm still trying to wrap my head around the idea that somebody finds underage girls and boys to be sexually attractive, so maybe I'm just biased.
And, on that note, I must now have jellybeans. JELLYBEANS I SAY!!