Today the blogosphere is abuzz over Tim O' Reilly's well-meaning but entirely insane proposal for bloggers to adopt a "Code of Conduct." The New York Times was all too happy to jump on the bandwagon by running a page-one story entitled "A Call for Manners in the World of Nasty Blogs." This could have been an interesting piece, but once I read the opening line ("Is it too late to bring civility to the Web?") I was laughing too hard to pay much attention.
Now, before I dig in, let me state that I am giving the benefit of doubt that Tim O' Reilly's heart is in the right place here. I understand he is trying to do a good thing. Who wouldn't want to make the blogosphere a better, safer place after the disturbing events surrounding the Kathy Sierra incident? Some of the stuff that goes on in our "world" is hurtful, hateful, and just plain sick. Wanting to address these horrors is only human.
But no thank you.
I'm not signing up for anything that tells me what I can say, how I should run my blog, and how I should react to other people's blogs. If anybody cares why I feel this way, I've address Mr. O'Reilly's six bullet-points in an extended entry...
I don't need to be told to take responsibility for my actions like some two-year-old. I already take responsibility for what I write by putting my name on this blog. Furthermore, I may monitor comments here, but not for the purpose of taking responsibility for what other people write.
If I want to say something online which I wouldn't say in person, that's my right. For example, I may like to joke about shooting somebody because they don't sell stamps with their postcards... on my blog... but I do it here BECAUSE I would never say it in person. My conscience is my guide for what I decide to write, and I'm not going to apply some hypothetical "what if" every time I have something to say.
If some other blogger says something incredibly stupid and confrontational, I'm not going to feel obligated to contact them privately before I call them out on it publicly. Sometimes people are abusive by nature, and I'm not necessarily going to waste my time trying to sort it all out behind the scenes if they've already made a public spectacle of it all.
Something which may be offensive to me, may not be offensive to others. What I consider to be an "unfair attack" may not be seen as such by the people actually involved. To rush to judgment in situations where I am an outsider is irresponsible, and can lead to a mob mentality which serves nobody. And just because YOU want to try to solve something privately doesn't mean somebody you don't even know is going to extend the same courtesy. On top of all that, some people simply prefer to fight their own battles, and don't want the interference of others.
If somebody leaves a comment which contributes to the conversation here, I'm not going to delete it just because it was left anonymously. Likewise, if some dumbass leaves an inappropriate comment which isn't contributing to the conversation, I'm going to delete it and feel no need to explain why (and it doesn't matter if it was left anonymously or not).
It's my blog, and I'll handle trolls however I see fit. Yes, most of the time this means ignoring them and deleting their comments, but sometimes I choose to use their stupidity to further communicate my point, and will continue to do so.
When all is said and done, I think I'm fairly responsible with both Blogography and how I conduct myself on other blogs. Adding a "civility sheriff's badge" to my sidebar and lining up with people who want to police the blogosphere would imply that my own judgment somehow isn't good enough. Well, I'll be the judge of that, because it's my name that's on the top of every page. If people choose to not read my blog based on non-compliance with arbitrary rules set by the self-appointed blog police, I'm perfectly okay with that.
But here's where things are NOT okay.
For those bloggers, such as myself, who choose not to fall in line with the "New Blog Order" set forth by the "civility militia," O'Reilly has an alternative...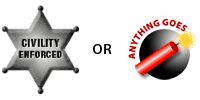 It's the "Anything Goes" badge, for those of us who "want to warn possible commenters that they are entering a free-for-all zone," and is suggested to be tagged thusly...
"This is an open, uncensored forum. We are not responsible for the comments of any poster, and when discussions get heated, crude language, insults and other "off color" comments may be encountered. Participate in this site at your own risk."
The implication here is outrageous.
Among consenting adults, "crude language, insults and other 'off color' comments" are somehow exclusive of civil conversation? By choosing not to adhere to some ever-changing definition of "civility" set forth by people I don't even know, my blog somehow becomes so dangerous that I should to warn people to proceed at their own risk?
Well fuck that shit.
Suddenly a seemingly innocent and just attempt at making the blogosphere a safer, nicer place begins to take on a much darker tone. Not only is my own judgment suddenly not good enough, but I'm a hazard to the entire blogosphere as well? Note the phrasing of that disclaimer very carefully... it's not that the forum is "unmoderated" it's that the forum is "uncensored."
And now I'm scared.
"Uncensored" is described as "uncut, complete, raw, whole, unexpurgated, and unedited" which is not necessarily a bad thing. In fact, I would argue that it is most often a GOOD thing to have the uncut, complete, whole picture when discussing an issue. Even in a civil conversation.
It is my sincere hope that a "call for common sense and treating others with respect" will prevail over badges, warnings, and labeling. Because heaven help us if O'Reilly's movement gains any momentum... I fear where it may ultimately end up.
A civility crusade like this may not be the end of the blogosphere, but it could certainly mean the end of my blog.