Continuing on with TequilaCon Week here at Blogography...
While having breakfast the morning of TequilaCon, I spoke about a concept I call "Dave Numbers."
It's kind of a personal ranking scheme that determines your place in this world based on your proximity to the center of the universe (which would be me). In simple terms, I classify my relationship with other people by assigning them numbers. Called Dave Numbers, this classification system is built upon how close others are to me based on certain criteria. The further you are away from me (either physically or by definition), the higher your number...
Here is a sample list of some things that can get you a Dave Number...
You've had intimate contact with Dave.
You've touched Dave.
You've met/spoken to Dave in person.
You've had a phone or IM conversation with Dave.
You've had mail/email communication with Dave.
You've received a blog comment from Dave.
Dave knows who you are.
You've commented at Blogography.
You've read Blogography.
You know who Dave is.
If your Dave Number is 0, you ARE Dave (lucky bastard!). Dave Numbers can be negative (e.g. a Dave Number of -1 implies you've had sex or some other very naughty contact with Dave, a -5 means you've performed open-heart surgery on Dave). Some other known number assignments follow. Note how drastically things decline once you get past the point where you don't even know who Dave is...
You hate pudding.
You think Bill O'Reilly actually knows what the f#@% he is talking about.
You are Jared the Subway Sandwich Whore.
You are "actor" David Caruso.
You drive in the passing lane without passing anybody.
You are pseudo-religious nut-bag Pat Robinson.
You are skanky media dumbass Anne Coulter.
Base Dave Numbers range from 1-500, whereas 500 is reserved for inanimate objects not capable of being aware of Dave at all (or anything else, for that matter... kind of like a cheese sandwich or Dr. Phil).
Sometimes Dave Numbers are assigned arbitrarily. For example, I have not had sex with Elizabeth Hurley, but she still rates a Dave Number of -1 because I feel her deep inside my soul. Sometimes Dave Numbers are arrived at by averaging. For example, if you have touched me (2) but you drive in the passing lane without passing anybody (220) your Dave Number would be 111 (2+220 divided by 2). This may seem harsh, but your not knowing how to drive properly makes me feel that much more distanced from you. In some rare cases, Dave Numbers are reached through cumulation. For example, if you hate pudding (22), are Jarod the Subway Sandwich Whore (163), and you drive in the passing lane without passing anybody (220), your total Dave Number is 405 (22+163+220). With a number like 405, you might as well not exist.
That's why events like TequilaCon are so special when I am in attendance. Just walking through this door is guaranteed to significantly decrease your Dave Number...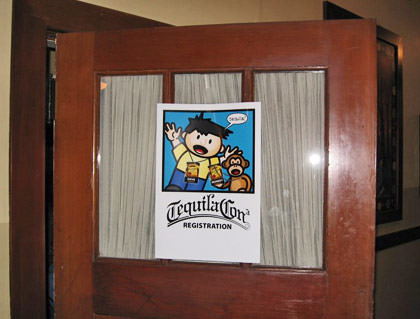 This photo shamelessly stolen from Postmodern Sass.
Since a low Dave Number is highly coveted, I live in constant fear of random people running up and talking to me or sticking their finger in my ear in hopes that their number will go down. One time a guy who wanted the bank to give him a better mortgage interest rate had knocked me down, farted in my face, then ran off declaring that he now had a Dave Number of -2 because I had "breathed in his essence." Unfortunately for him, he didn't realize that his Dave Number actually increased because that -2 had to be averaged with 496 (You cause physical, mental, or spiritual damage to Dave), which resulted in a 247. Not only did the guy not get a better interest rate, but the bank then refused to give him a loan at all, he was fired from his job, his wife left him, and he ended up being forced to live the rest of his life alone in shame. It's sad, but that's the price you pay for having such a high Dave Number.
This is why you should be clearing your calendar for TequilaCon 2008... since I am planning on attending, your happiness in life may very well depend on it.