Continuing on with TequilaCon Week here at Blogography...
Dateline: This past Friday.
"Dude! Three hundred!" is screamed at me as I answer my phone. "THREE-HUNDREHHHHHD!!" Thinking that Robert is playing some kind of Price is Right bidding game with me, I shout back "THREE TWENTY-FIVE!"
"Dude. No, dude. 300 opens this weekend." He is, of course, referring to the bad-ass Frank Miller comic book turned kick-ass movie, which I had completely forgotten about for some reason. It's about 300 Spartans running around half-naked trying to battle an entire army of Persians against overwhelming odds...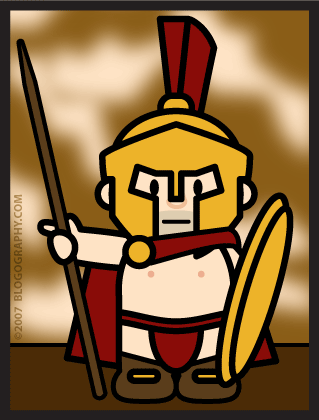 "It's TequilaCon this weekend!" says me. "I'm leaving for the airport in a couple of hours."
"Dude, you were serious about that?" Robert says in disbelief.
"Well, yes I was serious about that. What did you think?" (whenever I don't understand what Robert is talking about, I find it helpful to ask point-blank... this seems to save a lot of wasted time and embarrassment).
"You had blogged about astrally projecting yourself or something, so I thought this was just one of those imaginary things..." His voice is kind of trailing off now. He's already mentally running through a list of other people he can call to watch the movie with him. But he must have came up empty, because the next thing I hear is this...
"But what if everybody who shows up at the tequila thing is a douchebag?"
"They're not douchebags! I know these people." I say.
"No you don't. You just read what they tell you. You don't really know them at all."
And there it is.
With the exception of Jenny, I truly don't know who any of these people are. I'm not worried, of course, I have met plenty of other bloggers and always end up having a great time. Sure there might be a few people who get drunk and try to spread peanut butter on my ass (or something equally bizarre), but past experience has taught me that most people who show up at blogger functions are genuinely good people who just want to meet other bloggers.
"There's always a douchebag that shows up. Maybe you'll get lucky and the only douchebag is you." Robert says laughing, just before the line goes dead.
Now that TequilaCon 2007 is over, I'm relieved to say that I did not run into any douchebags. If Robert's theory is correct, this means it was me after all. Sorry everybody!