Continuing on with TequilaCon Week here at Blogography...
As Jenny was organizing the massive blowout that was TequilaCon 2007 PACNW, there was one concern that kept popping up in my head. What can you do you to make sure that people don't spend all their time hanging with bloggers they already know, but instead branch out and want to meet everybody? How do you make sure that those people who might be shy around groups or are new to blogging feel welcome, comfortable, and involved? The name badge lanyards were a start, but was there something else I could do to help out?
Having been to a number of Hard Rock Cafe pin collector events, I knew that most of the fun was wandering around trading pins with all the attendees. With this in mind, I decided to put my button machine to good use and make blog buttons. I didn't know everybody showing up... or even if everybody who said they were going to show up would actually be there... but I figured if I picked a dozen bloggers, gave them custom blog pins, and then brought a big bag of eclectic pins for everybody else, maybe it would encourage people to wander around so they could trade. Just maybe attendees would end up talking to more people than they usually would if they were trying to find pins they didn't have. It was worth a shot...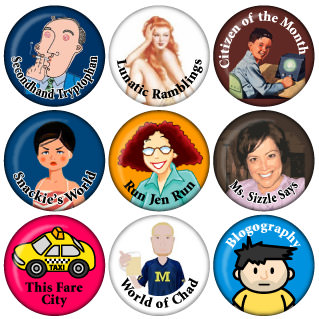 It seemed to work out okay, because everywhere you went TequilaConners were wearing pins on their shirts and had pins stacked on their lanyards...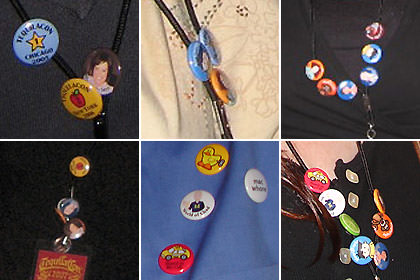 The problem was that not everybody had custom pins to trade. I feel kind of bad about that, so once Jenny compiles a final list of attendees I'll fix those blog pins I got wrong, add the blog pins I missed, then build a complete set I can send out to those who would like to have them. If Jenny and Brandon end up wanting to do this again next year, hopefully I'll be better organized.
And now for a few of those TequilaCon Moments I never get tired of re-living...
Knowing my love of all things Batman, Karl surprised me with an early birthday present... A BATMAN ALARM CLOCK! It's retro cool and will look superb sitting on my Batman Lego shelf. And, as if the clock weren't enough, Karl also included a battery. The man has class, I'll give him that much (though I will always remain jealous that the bastard looks better rocking Hilly's tiara than I do).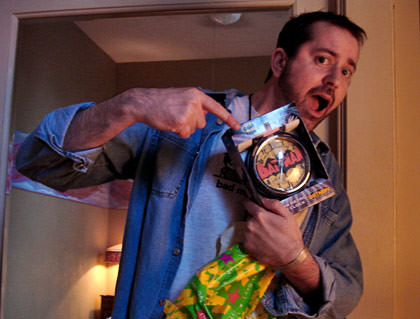 Then, just as I was beginning to think that this was the best TequilaCon ever, Michelle shows up with another present... THE NINJA-POPE LIL' DAVE ACTION FIGURE! This means not only is she Portland's favorite taxi driver, president of the TequilaCon Doughnut Procurement Office, and somebody I love more than my Cinnamon Crest toothpaste, she's also got talent. No photo could ever do justice to the detail that's sculpted into the piece (he's even sporting his Ninja Papal Power Staff!), but he's been added to my toy shelf, right between the starship Enterprise and my Plastic Brain, as you can see here...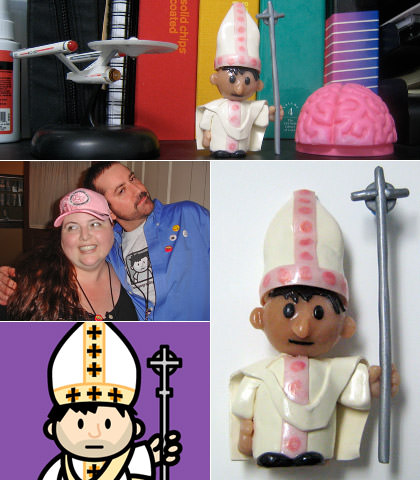 Pretty sweet! And if you are not reading This Fare City, you should be. In all seriousness, many of Michelle's stories are better than the rest of our blogs put together.
Alrighty then. Will tomorrow finally see an end to all these TequilaCon entries? Probably not. I've barely touched upon all the goings on from the weekend. TequilaCon was much bigger than anybody could have anticipated, and the aftershocks will be felt for days (if not months) to come!