As a possible side-effect of the insomnia I've been suffering for the past two decades, I don't dream like "normal" people do. To my knowledge, I never have. Whenever somebody tells me that they had this great dream where they ate chocolate pudding at the Eiffel Tower and then ended up having a sex orgy with a half-dozen movie stars (plus Angeline Jolie) at the Louvre, I just nod my head appreciatively as if I know what they are talking about.
But I don't.
My dreams are very different. For one thing, I always know that I am dreaming because I am never actually in the dream. Instead, I am merely an observer... kind of like watching a movie. For example, if I am having a dream where a naked Elizabeth Hurley is laying in bed reading Batman comics to me as I'm being given a full-body massage by Princess Jasmine from Disney's Aladdin while floating in a cloud castle... it's not really me. It's just somebody who looks like me. In the dream, I'm the one floating outside the window watching it all.
Yeah, dreaming pretty much suck ass for me. The bastard...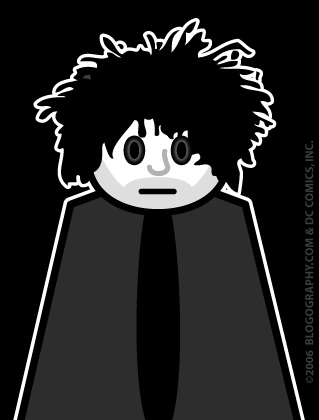 So when somebody sends me a meme that's asking about my dreams, I cannot help but be a little depressed.
Because it's not like I can whip out some great dream about the time I went skydiving with Halle Berry and ended up landing in a giant ice cream sundae where we made sweet love on a bed of chocolate fudge brownies while SpongeBob Squarepants dances around blowing bubbles out of the whip cream. That would be cool, but it just doesn't work that way.
Oh well. My feeble attempt at the "Dream Meme" is in an extended entry...
If money were no object, what would you be doing with your life? Traveling the world.
Money is just that - an object, so why aren't you doing it? Because if you are going to travel the world, you kind of need a way to pay for it.
What's better: horses or cows? In a death-match between a horse or a cow, I'd put my money on the horse.
What do you think the secret to happiness is? Fear nothing. Accept everything. Regret nothing.
When was the last time you had a dream that you either remember well or did not want to awake from? Can you share a bit? For some bizarre reason, I'm not in my dreams... I just observe myself in them. So, no.
When you were a little kid, what did you want to be when you grew up? From my 100 Things About Me Page: "At one time or another during childhood I wanted to be a fireman, airline pilot, doctor, and a chef. I ended up being a graphic designer, so I guess none of my career dreams came true. Now I want to be an astronaut when I grow up."
Complete this statement: Love is... ...never having to be somebody you're not.
Can you tell a good story? Since I don't listen to my own stories, I have no idea.
Can you remember your last daydream? What was it about? No. But I'm betting chocolate pudding was involved.
If you were to thank someone today, who would you thank? The people who show up and read Blogography every day. Oh... and the guy who invented Contonelle Fresh Flushable Moist Ass-Wipes. Genius. Sheer genius.
And now I'm off to watch the "Special Features" on my Casino Royale DVD. What a great flick. For James Bond fans, it's a dream come true.