Yaknow how you get that feeling in your nose and down your throat just before you're going to catch a cold? It took me a minute to figure out what was happening, because I get maybe one cold every three or four years and forget. Well, today at around 2:15, I got that "feeling." After screaming for a few minutes, I choked down vitamin C in quantities that are equivalent to the Recommended Daily Dosage for a small city, then shoved so much Zicam up my nose that I thought I was going to drown. When this happened a few months ago, it turned out to be nothing. It had better be nothing this time as well, or I might be upset.
Yaknow how you're washing clothes and you've run out of soap, so you put water into the soap bottle and swish it around to make more soap? But you forget to buy a new bottle of soap, so you keep trying to get more soap out of the empty bottle with even more water? Then suddenly you realize that you've been doing this for three wash-loads, and there just isn't anymore soap in that bottle? So then you add dishwasher soap in the hopes that it will be good enough to clean the underwear you so desperately need? Uh huh. Well, I hope I don't have an allergic reaction on my happy bits tomorrow, because that would suck ass.
Yaknow how you're blogging about maybe catching a cold AND possibly having an allergic reaction on your crotch, then realize that tomorrow might not be your day?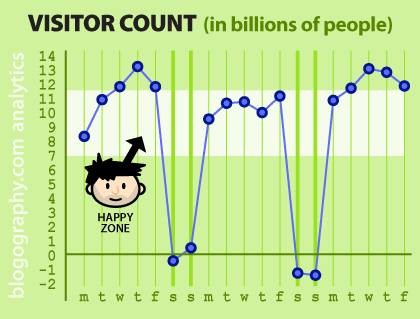 Yaknow how you look at your blog stats to make sure that you're not going to run over your bandwidth limit, then happen to notice how almost NOBODY visits your blog on the weekend? And then you start to wonder if perhaps Kevin has the right idea, and maybe you should just start skipping the weekends? Yeah. But I am so undisciplined that if I did start skipping weekends, I'd probably start skipping every day and never blog again. Why do I ever look at my blog stats? No good can ever come of it.
Yaknow how you've been craving taco pizza all day, so you get home and toss a frozen cheese pizza in the oven, then get out the lettuce, the tomatoes, the hot sauce, and grate the cheddar cheese that goes on top? But then you see that the lettuce has gone all brown and squishy, and you don't actually have any tomatoes? But since you've already grated the cheddar cheese and still want that pizza, you decide to just have a pile of cheese on top of your cheese pizza for dinner? This can't be healthy.
Yaknow how you've got a dozen things you want to blog about, but you're tired and don't feel like it so you just stop?