Today I got lambasted by a friend because I am not watching Lost and Heroes.
"HOW CAN YOU NOT BE WATCHING THE TWO COOLEST SHOWS ON TELEVISION?!? she screamed at me. "OMG! THEY ARE BOTH GETTING SOOOOOOOO GOOD JUST NOW!"
Yeah, well I had fallen for that before, and swore never again, so I decided to ask a few questions about Lost...
"Have they explained what the smoke monster is?" — No.
"Have they explained what The Others wanted with Walt?" — No.
"Have they explained why The Others took the baby?" — No.
"Have they explained what The Others are doing on the island?" — No.
"Have they explained what Hurley's numbers mean?" — No.
"Have they explained what the island is for?" — No.
"HAVE THEY EXPLAINED ANYTHING ON THAT STUPID, STUPID SHOW?" — No.
So, in other words, they're still just piling more confusing shit on top of the same old crap instead of wrapping anything up and going forward? — Uhhh... yes?
Uh huh. No thanks. If this were truly a GOOD show (like Veronica Mars) then most of the questions would have been answered by now, and they would be moving on to newer, more interesting mysteries. I have no desire to be strung along by lazy writers who can't figure this out. We're half-way through Season 3 and monkeys are more likely to fly out of my ass than anything getting resolved on Lost any time soon...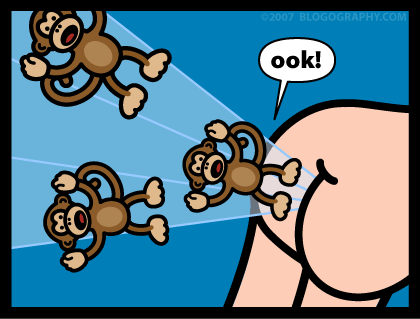 And for Heroes, it's even easier...
"Are we getting more than one decent 'super-power' special effect per episode?" — Not really.
Well there you go. Heroes is just plodding along with boring-ass "B-characters" like "Mirror Girl" and "Mind-Reader Guy" while everybody with interesting powers just sit around talking about boring shit. Forget it. Until somebody gets the money to make a REAL super-hero show where people who can fly ACTUALLY F#@%ING FLY and shit... it's just not worth my time. I'll read a comic book WHERE STUFF ACTUALLY HAPPENS if I want to see heroes.
Anyway... I've taken an alphabet meme from 511 and slapped it in an extended entry, because it's probably more interesting than watching an episode of non-Heroes tonight...
A- Available or Single? Yes.
B- Best Friend? I have three.
C- Cake or Pie? I live for my grandmother's apple pie. Truly one of the best things on this earth.
D- Drink of Choice? Coke with Lime (for as long as I can get it, anyway).
E- Essential Item? My MacBook Pro.
F- Favorite Color? Periwinkle Blue.
G- Gummi Bears or Worms? Bears. If you fold them backwards, they look like they have boobies!
H- Hometown? Edinburgh, Scotland (I wish).
I- Indulgence? Snack-Pack Pudding.
J- January or February? Probably February, since January is more hectic for me.
K- Kids and Names? None.
L- Life is incomplete without…? Apple Macintosh.
M- Marriage Date? June 14th, 2010.
N- Number of Siblings? One.
O- Oranges or Apples? I live in the one-time "Apple Capital of the World" (now it's probably in China somewhere), so I am going to have to go with apples.
P- Phobias/Fears? Heights. Bugs. Clowns.
Q- Favorite Quote? "No matter where you go, there you are." —Buckaroo Banzai.
R- Reasons to smile? I'm healthy, relatively happy, and get to see a bit of this world from time to time.
S- Season? Spring.
T- Tag 3 people? I don't tag.
U- Unknown Fact About Me? The one movie that I've seen more times than any other is Death on the Nile starring Peter Ustinov, based on the original Agatha Christie novel.
V- Vegetable You Hate? I loathe broccoli and cauliflower equally.
W- Worst Habit? Swearing.
X- Xrays You've Had? Other than teeth x-rays? I can only think of my foot and kidneys.
Y- Your Favorite Foods? Johnny Rocket's Streamliner burger with no onions, extra mayo, and American cheese.
Z- Zodiac? Aries (or a Fire-Horse, if you are of the Chinese astrology persuasion).