People don't take the time to listen anymore. There are simply too many distractions in this modern world for them to concentrate on what other people say.
A prime example of this was provided to me in the parking lot of Office Depot this afternoon. As I was exiting the store, I notice a man and a woman unloading the car parked next to mine. The man said "Have you got the keys?" The woman replied "No, they're on the seat." The man then slammed the door anyway, thus locking them out. This got him the Stare of Death from the woman, to which he could only reply "What?"
And the problem only seems to get worse with each new generation.
It's for this reason that I am dreading being a speaker on "Career Day" at the local high school this Friday...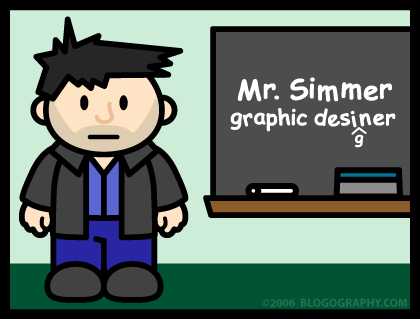 I used to do this fairly often for local schools, but then I was ignored for the past four years. I had guessed it was because the teachers finally figured out that I was the last person who should be advising today's youth on their future. Apparently they either forgot this, or somebody new was put in charge, so here I am again.
The very first time I spoke at Career Day, I dressed up in a nice suit and tie and was all professional and stuff. After my presentation, the first question I got was "What do you like best about your job?" I then realized that the best part of my job was that I didn't have to wear a suit and tie. Oops. But subsequent Career Days got easier and easier for me, and I never minded showing up when asked. If nothing else, it allowed me to dispel the illusion that graphic designers have an easy job because they just sit around drawing pictures all day (yeah, if only).
The problem is that very few of the kids that show up to learn about being a graphic designer have any interest in graphic design. They're only there because teachers force them to choose four careers to investigate, and "graphic designer" sounds less boring than say, ohhhh... "accountant" (with apologies to any accountants out there, because I'm sure it's a fascinating career to those who like being creative with numbers all day... something that terrifies me).
But the hardest part is knowing that most of the kids who show up that are interested in graphic design probably don't have the talent to be successful at it. This is because most working graphic artists are commercial artists, which is a freaky kind of mind-set to try to work within. Being consistently creative under pressure in a way that sells is not always as easy as it sounds.
So, given all that, why do I bother volunteering to speak at Career Day?
Because there might be one or two kids who have the desire, talent, and ambition to actually be a good graphic designer one day. Maybe something I have to say will be helpful to them.
If only they choose to listen.