A long Sunday trying to get caught up with work AND get my laundry washed. The bad news is that this wasn't a very relaxing weekend. The good news is that I have plenty enough clean underwear to last me a while.
• Grammy Stupidity... I tuned into the Grammys this year so I could see The Police reunion (which was amazing, as expected) and there's an American Idol-type contest going on. Why? Why do they do this stupid crap? If it takes gimmicky stuff like this to get people to watch the Grammys, then don't bother broadcasting them anymore. I mean, sheesh, isn't THE MUSIC enough without having to resort to "reality television" bullshit? I guess since The Police were the opening act, I can just skip the rest of this joke of an awards show and read who won in the morning.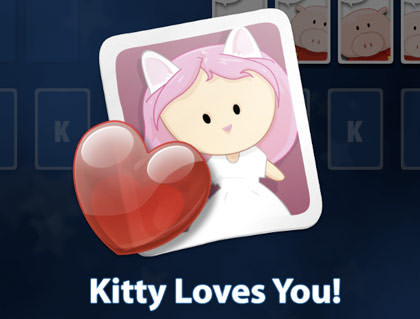 • New Kitty... I've been beta-testing version 3 of the bestest computer solitaire card game ever... Kitty Spangles Solitaire! Now out of beta, Swoop Software has upped the game count from 18 to 32, which is pretty sweet. About the only thing I don't like is the new font they're using on the cards, which I find more difficult to read than the older version, but it's still a terrific time-killer app that everybody should have on their Mac. I wrote about Kitty here (and butchered her pet pig Ferdiham here). You can get your own copy for just $19.95 here.
• HP Insanity... For the past five months, I've been fighting with Hewlett Packard to return a box of frickin' paper their web site sold me that was mistakenly listed as working on my printer (which it didn't). Well, finally, after sending emails to everybody I could find at HP, a reply was sent from the company president telling me that they would pass my complaint on to the proper person. Having heard it all before, I was ready to give up... but lo and behold, somebody did contact me. They apologized for the problem, then sent me a box of the correct paper. And so, while I have no plans of ever buying anything from HP again after how I was treated, it is nice to know that EVENTUALLY they did the right thing (even if it wasted hours of my time to get it to happen).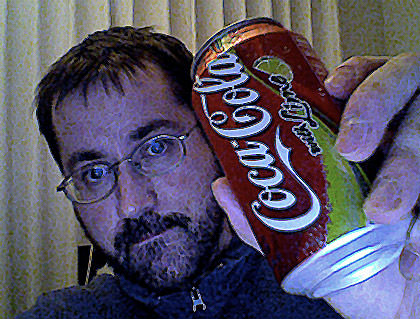 • Lime Hoarding... Ever since learning that the dumbasses at Coca-Cola Bottling for the West Coast have decided to discontinue my beloved Coke with Lime, I've been stockpiling the stuff. I think I have enough to last me a few months now. Hopefully by the time I've run out, I'll have found a way to make my own. I've ordered seven different varieties of lime flavoring, and have my fingers crossed that one of them will do the trick.
• Back it up... Just a quick plea to everybody who thinks that data loss can't happen to them... you're wrong. In my 25 years of using personal computers, I've never experience catastrophic failure until the hard drive in my new MacBook Pro died a horrible death (taking all my files with it). Fortunately, I maintain weekly backups of all my data, and was able to recover pretty much everything. When I think of all the precious data I could have lost... all my music... all my travel photos... all my drawings... well, it's a real testicle-shriveling experience. If you don't back-up, start. If you do back-up, make sure it's kept current.
And, on that note, I'm off to fold my freshly-laundered wardrobe before I pass out. Or maybe I'll be passing out on top of my freshly-laundered wardrobe since it's all stacked on my bed. Either way, I'm too tired to brush my teeth. I wonder if I just suck on a Tic-Tac and scrape my teeth with a fingernail if that's the same thing?