I hung around my hotel room until 8:30 this morning, because that's when the Pret A Manger down the street opens up at Harbour City. They don't have my beloved Egg & Roasted Tomato Baguette, but I still love the food there, and decided it was what I wanted for breakfast.
Except when I got there at 8:40, the sign on the door said they don't open until 10:00... despite their web site stating quite clearly that 8:30 was the time. Pret bastards. Why the f#@% bother to post hours on your web site if they aren't going to be correct? Far better to post nothing at all if you are not going to update them when things change. I registered a complaint on their site, and know that they will make the change straight away because they are an amazing company, but it doesn't make me any happier about having to eat at McDonalds this morning.
After another impossibly cheap ferry-ride across the harbor, I walked up to Queens Road so I could wander the market stalls in the side streets. As you might know from previous entries, this is something I enjoy quite a lot. Hong Kong is rather surprising in that many stalls are packed into narrow streets on steep hills. This made it difficult to take photos where you could see anything, but I eventually found a flat section where I could get a shot...
The produce was beautiful, and I could tell from the boxes that some of it was fresh from Mainland China. The Beijing tomatoes in particular looked quite tasty...
Then my eye caught something that made me laugh. Some stalls were selling Red Delicious apples from my home in Washington State! They looked to be in great shape so, of course, I had to buy one. Red Delicious is not my favorite variety of apple, but it was kind of strange to travel half-way around the world to buy something from my own back yard. Eating it made me feel right at home, and at a price of 5 for $11 HK (28¢ US each) they were quite a bargain...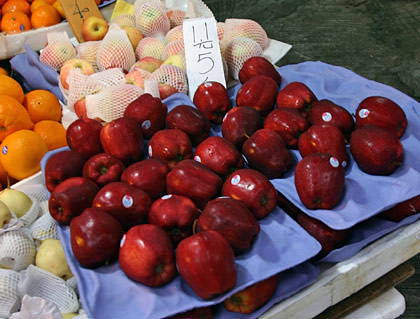 Despite the rain, it is still a bit miserable outside. The only difference is that instead of being hot, sweaty and miserable, now I'm hot, sweaty, miserable and soaked. But that's okay, since I'm not meeting my friend for dinner for three hours yet. Still plenty of time to blog, check email, and get cleaned up.
And speaking of email, the week would not be complete unless I get some wacky hate-mail. This time it's from a guy who has written to me a few times before, usually telling me that something I've done is getting me sent straight to hell. Apparently my visit to a fortune teller (which I'm told is an "instrument of the devil") from the other day has me queued up for a trip to hell... again.
Whatever. Fortune telling is a huge part of Chinese culture, and I'll be damned (heh heh) if I was going to miss out on the experience. It's part of exploring other walks of like, and is the entire reason I like to travel. Religious whack-jobs may feel that it's better to stick their heads in the sand and insulate themselves against all possible contact with other people's beliefs, but I think that's just stupid. That kind of lame superior attitude is what makes Americans so roundly hated the world over.
Besides, it was just for FUN! I put as much weight on fortune tellers as I do this really cool Bocca della Verita palm reading machine I saw at The Peak on Thursday...
It's just like the real "Mouth of Truth" I saw in Rome! (well, except the original doesn't have a slot for money like this one). Wouldn't it be great to have one of these in your living room for parties?
Wah. Now I have to go get ready for my last night in Hong Kong.