I don't know what happened.
Last night when I went to bed, everything was okay. It had been a good weekend. All the various problems that had been thrown my way during the week had been handled. I was... dare I say it... "happy" with the world and my place in it. None of the dread that usually overwhelms me on Sunday nights could be detected. When my head hit the pillow, a rare sense of optimism had settled into the core of my being and all was right in my world.
Then I woke up.
I am used to everything going wrong on a Monday and having to dig my way out. I can handle that. But I quickly found out this morning that "everything" is a relative term, and there is a certain level of "everything" that simply cannot be dealt with. Overwhelmed with one horrific dilemma after another, I was assaulted on all fronts. My telephone. My mobile phone. My work phone. My email. My mailbox. My car. My work. My life.
The entire universe decided to rain shit down on me for some unknown reason.
I don't know what I did to deserve it. I can only guess that this is some kind of retribution for going to bed happy on a Sunday night.
It's at times like this that I feel the need to develop a line of T-shirts to explain my life in a way that can be easily understood. Since I'm fairly certain I'm not alone in being shitted on at one time or another, I can only guess that this is my ticket to making a million dollars. My advertising campaign would feature myself wearing T-shirts with various slogans while standing in a pool of some kind of unsavory substance... like urine or raw sewage or toxic waste or something...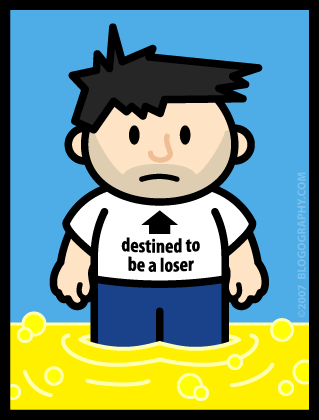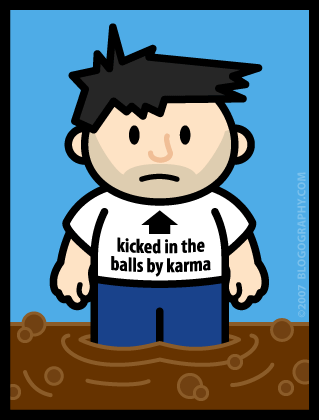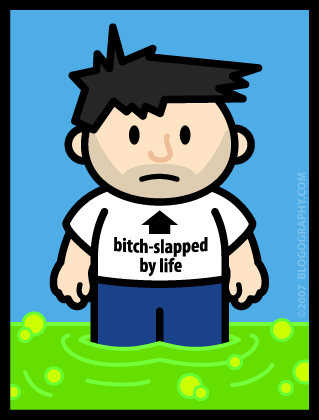 Things can, of course, always get worse. It's as if the laws of physics demand it. There's probably some Einsteinian theorem floating around describing how once you start sliding in shit, you will continue to slide in shit until you land in a big pile of it.
The question then remains... is today my "pile" or am I still sliding towards it?