I hate to sound like a broken record, but mobile phone idiocy is getting completely out of hand.
There was a time when people at least tried to be discreet and polite when talking on their mobile, but most of them just don't give a crap now-a-days. These idiots talk at FULL VOLUME while discussing stuff nobody wants to hear. Even worse, they seem to have absolutely no qualms about screaming profanity or discussing intimate details of their life. It's as if they think nobody around them can hear what they're saying, and I don't know why that is.
Today I was treated to some moron laughing it up while screaching "SHIT YEAH!" over and over again as he yelled into his Bluetooth headset... WHILE STANDING IN LINE FOR LUNCH... WITH CHILDREN PRESENT!
It's times like this that I wish I carried a baseball bat with me at all times...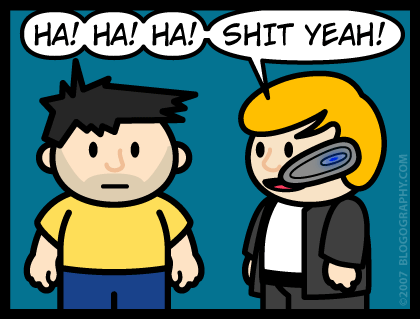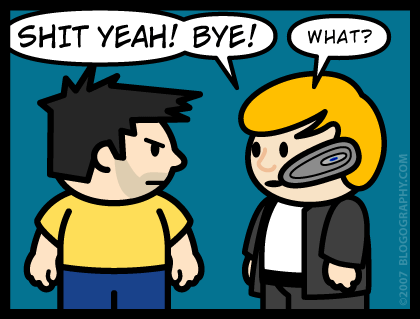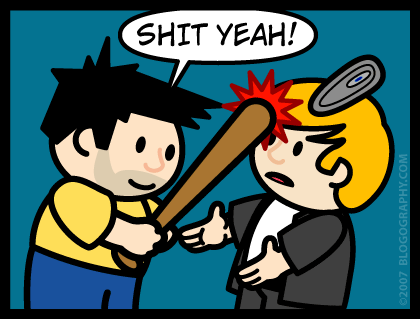 Why? Why? Why would somebody act like this? And I'm not talking about me smashing somebody in the face with a baseball bat... I know why I would act like this. I'm asking why somebody thinks it's okay to scream profanity in a public place just because they're talking on their phone. Why does having a phone stuck in your ear suddenly make this okay? If the phone wasn't there it wouldn't be okay... would it?
Maybe from now on when I see such a serious breach of etiquette, I'll commit a breach of etiquette of my own.
Like farting in their face or something...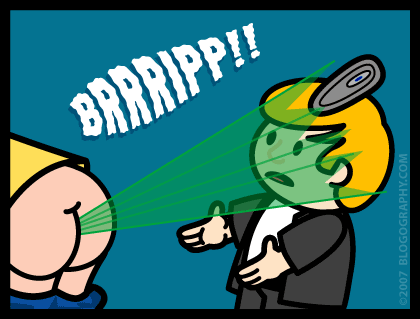 Sure it's smelly, but it's a lot more convenient than carrying a baseball bat around all day.