"Well aren't you a whiny little bitch in your blog lately" she says in a tone of distaste.
Nothing like having a friend ring you up first thing in the morning so she can call you names... "Ooh look! Mayonnaise! You are whining about m-a-y-o-n-n-a-i-s-e now!" she cries, drawing out the word "mayonnaise" to an impressive 30 seconds. I act quickly to defend myself, but to dubious effect: "Uhhh... actually, I'm whining about Miracle Whip... see, they changed the recipe and it's melting into my toast..." I hear a huff of disgust followed by "Oh? Miracle Whip? Well that makes a BIG difference!" I then envision her eyes rolling so far back into her head that they get stuck there. "Maybe you shouldn't read my blog anymore, because whining is what I DO there," I offer helpfully. But she doesn't hear me... "HA! HA! The monkey is smuggling heroin up his ass?! HA! HAAAAAAA! Where do you come up with this stuff?"
Having friends and family reading your blog is a mixed bag.
On one hand, when I'm traveling or doing something interesting, everybody can see what's going on in my life without having to ask. In many ways, this is why I started blogging in the first place... it's easier than having to send a bunch of emails that all say the same thing, or having the same telephone conversation over and over. It also has the benefit of giving me a record of what I was doing two years ago (
driving from Birmingham to Nashville
with stops at the Hard Rock Cafes in
Nashville
and
Gatlinburg
) or even just two months ago (
puking my guts out
), which is kind of nifty.
On the other hand, much of what I write in my blog is stuff that I would never bore somebody with in "real life," so it can be confusing to people who know me (and even more perplexing to those who don't, I'm sure).
Such is the hazard of blogging from a small town where nothing very exciting ever happens, and all you do each day is work. You end up whining about a lot of little things (like Miracle Whip) because there's nothing else going on. I've toyed with the idea of only writing when I have something interesting to say, but what's the point of having a blog with only ten entries per year?
It makes me jealous of bloggers who live fabulous lives in the big city, because they almost never post an entry featuring a cartoon monkey smuggling heroin up his ass (and, when they do, it's bound to be much more entertaining and better-drawn than what you'll find here).
Which puts me in kind of a dilemma...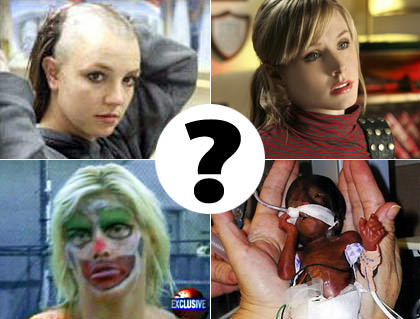 Since today was yet another boring day, should I talk about Britney Spears' continuing melt-down? Or how awesome and surprising Veronica Mars was last night? Or about that scary video of Anna Nicole Smith in clown makeup talking to a doll? Or maybe I should blog about the world's tiniest prematurely-born baby getting to go home?
I'm sure any of those topics would make for a most excellent blog entry.
But I'd much rather whine about people who over-fill their gas tanks and spill petrol all over the place. Don't you just want to roll them around in the spill until they've mopped it all up and then set them on fire? Because I am getting really sick and tired of getting out of my car to fill up, stepping in a puddle of gasoline, then having to smell it all day long. I've spent the latter half of my afternoon debating as to whether the fumes I've been inhaling are better or worse than the smell of the men's public toilet at an outdoor concert during the middle of 110-degree summer heat after two hundred drunken guys urinate on every available surface. Since I loathe both smells equally, you can see what a challenge this is for me.
Except now that I've gotten that off my chest, I feel a little better.
Isn't whining about your life what blogs are for?