For dinner tonight I had a Four Cheese Pizza Hot Pocket. It was good.
I love pockets. When it comes to buying coats or backpacks or suitcases or whatever, the number of pockets is a major selling point for me. I've lost count of the number of times that I've been comparison shopping and made my decision based on which item has the higher pocket-count. That's how I decided to buy my new Swiss Army Synergy backpack... it has an abundance of pockets. I found this kind of strange, because Swiss Army is famous for combining bunches of tools in a single item, which would actualy require less pockets.
When "painter's pants" were in fashion, I was in heaven, because of all those extra pockets. I especially liked the pocket that was perfectly sized to hold my fat-handle comb. I secretly hope that one day painter's pants come back in style. Not because I want to start carrying a fat-handle comb again (the 80's are over), but because I'm sure I could find cool stuff to put in all those pockets.
My Helly Hanson jacket is ten years old, but I just can't bear to get rid of it because I like its configuration of pockets. There's a pocket in the collar which is meant to hold the rain hood, but I put all sorts of crazy stuff in there. Like the time I bought a $5 boxed lunch on a plane trip. It was pretty good, except there was a little beef stick that I didn't want. I was too embarrassed to slip my little beef stick to the stewardess, so I stuck it in my collar pocket instead. It turned up six months later when it was raining and I needed my hood. I threw it in the garbage, but I kind of regret it now... what if I ever need to distract a guard dog? That little beef stick would have come in handy.
Secret pockets are the best though. My Timbuk2 Courier Bag has tons of pockets, but my favorite is the full-length front-interior secret pocket because it's not easily noticed. I owned the bag for two months before I found it.
That was one of the happiest days in my life.
Because pockets are good...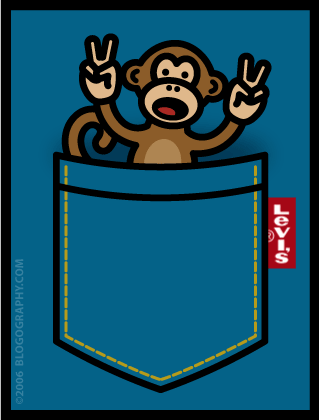 I still have no idea what that tiny pocket in a pair of Levi's is for, however.