Yesterday afternoon as I was walking back through the ISM show, I had to save some poor young woman from getting trampled by an anxious group of guys in suits who had just gotten off the escalator. When I helped her steady herself, I noticed that she was pregnant and quite upset. Who could blame her. After guiding her away from the crowds, I asked if she was okay, which only seemed to confuse her. I tried again with my terrible German skills, which made her laugh (hopefully "Bist du gutes? Ja?" isn't something horribly offensive). She then said "thank you" (in English) and was gone. Just my luck she wasn't German at all, and I offered to milk her goat in her native tongue or something.
I have been gravely disappointed that there haven't been many monkey candies at the ISM show this year. Usually, there are several companies with monkeys on their packaging, but there's been a drought this time around. Until I found a chocolates company called "Most" who has some beautiful packaging with monkeys on it...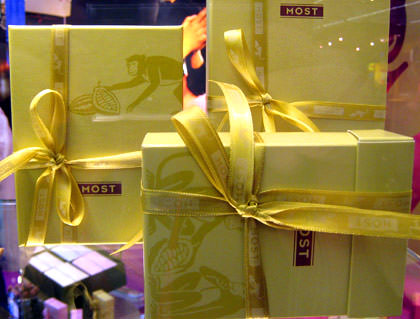 "Do you love your monkey or do you love me? Why can't you set your monkey free?"
Speaking of beautiful, there are many great things about Germany, but I think mayonnaise in a tube has got to be at the top of the list...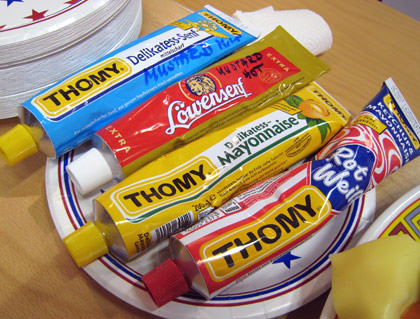 THOMY Mayo was okay, but I prefer Best Foods Mayo (known as Hellmann's Mayo, to you Easterners).
Great chocolate is probably on the list too. The other day I headed back to my hotel early so I could try and solve some kind of networking problem I was having (smearing mayonnaise on my PowerBook didn't seem to help). But when I got there, the problem had mysteriously disappeared (mayo rules!), leaving me with a free hour on my hands while I waited for my dinner meeting. I decided to walk along the Rhine for a bit until I ran across Schokoladenmuseum (Chocolate Museum). Since I had never been inside, I decided to take a look...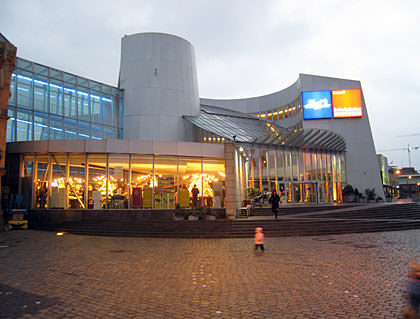 Awwwww.... cute! Little Pink Coat Girl was running around in circles!
My favorite part would have to be the big chocolate fountain. As I approached, a woman was dipping waffle sticks in the warm chocolate and passing them around. Needless to say, it was fantastic. I could have easily skipped dinner and ate chocolatey waffles all night long.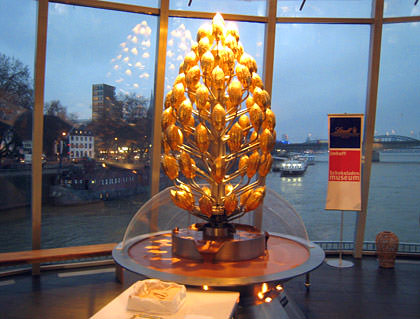 This would look totally awesome my living room.
Inside the museum is a working chocolate factory sponsored by Lindt. They make all kinds of stuff, including these nifty molded chocolates...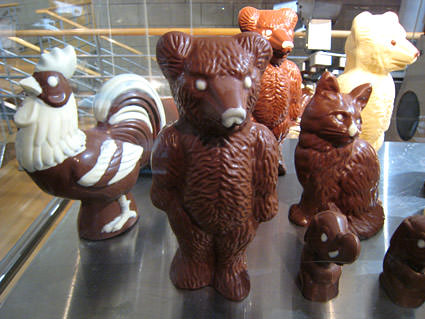 That is one big cock and pussy! They're as big as a grizzly bear!
The museum is built in such a way that you can view the process from every angle, even from above...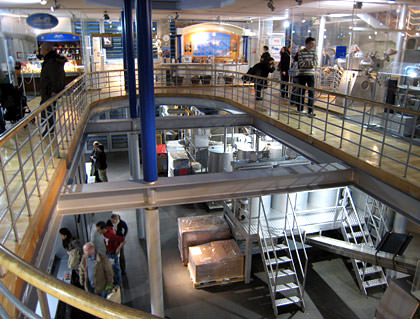 Screaming "DOES ANYBODY KNOW WHERE I CAN GET SOME F#@%ING CHOCOLATE?!?" is apparently not funny.
The factory section is beautifully located on the Rhine River, overlooking the riverboats and the cathedral...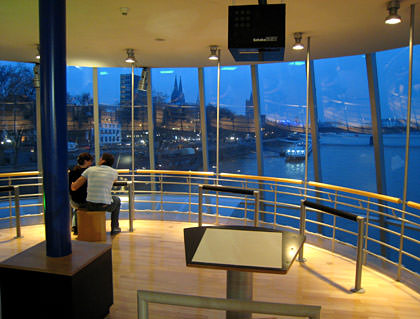 "Hey baby, waffles aren't the only thing that taste good when dipped in chocolate!"
The German language is great. The best thing about it is that Germans are happy to smoosh a whole bunch of words together to make new words (one of my favorites being "Fahrgastausstiegswunschtaste" which is the button you push on a bus when you want to exit... I think there's got to be four or five words in there!). Sometimes you'll see words so long that your brain explodes trying to decipher it. I also like how German is so strangely familiar to me, despite the fact that I haven't studied it in years. It doesn't take a dictionary to figure out that this sign is saying "The third floor is closed for remodeling, thank you for your understanding" (or something like that)...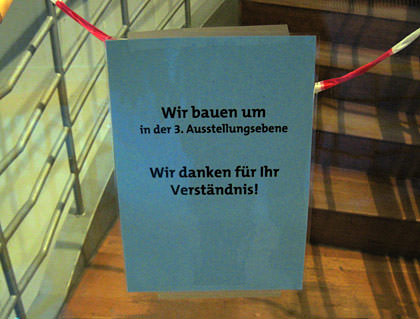 NOOOOOOOOO! That's probably where they keep the Oompa Loompas!
The museum also features a small greenhouse so people can see actual chocolate plants growing. It's more impressive when viewed from the outside though...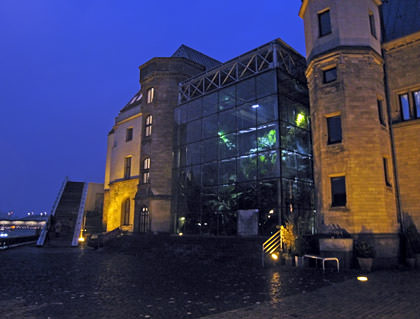 "Cocoa plants? Suuuuuuurrre that's all you grow in your greenhouse..."
And that's the Schokoladenmuseum. Worth a look if you happen to be visiting Cologne.
Now, if all goes as planned, I'll be leaving the country this afternoon for a few days vacation...