Due to yesterday's breaking news from the floor of ISM, Bullet Point Sunday is on Monday today...
• Access... The internet is a wonderful thing because it lets you keep up with your life no matter where you go. The internet is also a terrible thing because it lets you keep up with your life no matter where you go. Just as I get done with stuff here, I then have to deal with stuff back home all night. It's as if the work-day never ends! This makes it very difficult to keep up with email (32 unanswered), blogs (343 entries unread), and news (108 stories to read). Remember the good old days when you could leave the country and forget about everything else? Hopefully tonight I will have a bit of time to get caught up.
• Fahrt... Two new photos for my fahrt collection!


It sounds funny because it's like "fart" with an "h"!
• Ambassador... The United States Ambassador to Germany was visiting companies in the USA Pavilion at ISM yesterday. Given all the things he must have on his plate, it was a very generous use of his time. In addition to saying hello, he was also accepting boxes of candies and other goodies to give to injured soldiers at Landstuhl Hospital here in Germany (it's the largest American hospital outside of the US, and many wounded end up there). While the Ambassador was talking with people far more important than me, I had the opportunity to speak with a woman from his office. She tells me that most injured soldiers are flown out of the war-zone with only the clothes on their backs, and arrive at the hospital with nothing. I got an address of the Chaplain's office where stuff can be sent...
Landstuhl Regional Medical Center
ATTN: MCEUL-CH/Chaplains Office
CMR 402 - APO AE 09180
They can only accept NEW items, and are in need of sweat-suits (all sizes), gym bags, and international calling cards. Of course, letters and get-well cards are always welcome. Looks like I have something new to do when I get back home.
• Clockless... Why is it that most of the hotels I visit in Europe don't have alarm clocks? I find myself freaking out each morning because I don't know what time it is.
• for Jenny... Jenny had asked if Peeps were at ISM, so I went to get some Peeps scoop. Turns out that the big news out of Peep-land is that Peeps are now available in GREEN! The new green is replacing white Peeps, which have been discontinued. I remarked that this was probably a good idea because green Peeps are more fun that boring-ass white Peeps, but was told that the white ones will probably still be missed because they are popular at weddings...


We be ready for St. Patrick's Day, bitches!
• Panties... My hotel room here in Cologne doesn't have the best of views. I'm not overlooking the cathedral or having a view of the Rhine River or anything. What I DO overlook is an apartment building. An apartment building that has a woman who very much likes walking around her home wearing nothing but a bra and a pair of panties. Ordinarily, this could be a good thing, but I think she must be like 90 years old or something, so it's actually kind of freaky.
• Screamer... Why is it that when English-speaking persons are talking to somebody whose English skills are not that great, THEY FEEL THAT YELLING AND TALKING LOUDLY MAKES THEM MORE EASILY UNDERSTOOD?!? It drives me nuts, and I don't understand the logic... yet I see it everywhere.
• Scary... As beautiful as Kölner Dom is, I can't help but note that it is positively terrifying at night. Kind of like a scary haunted castle or something...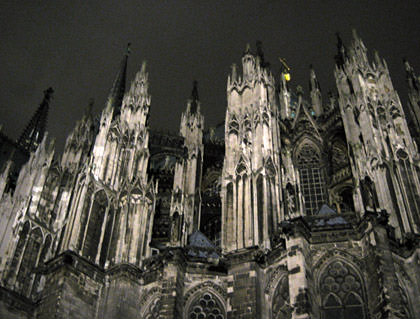 Welcome to Count Dracula's Summer Home.
• Redux... Last night I was going to have dinner at a little pizza restaurant I like, but they had the doors locked for some reason (even though there were people inside). I was kind of craving some Twisted Mac & Cheese from the Hard Rock, so I decided to give them a second chance. Service was much better this time around. 4 minutes to get my Pepsi. 17 minutes to get my Mac & Cheese. 7 minutes to get my Pepsi refill. 5 minutes to get my bill settled. In other words, it was a typical Hard Rock experience for me with the good service and good food I've come to expect. I have no idea why it would be otherwise for my other visits, but am glad to know it does work from time to time.
• Sexy... Today I found out that Cologne is the only city in Germany that actively taxes prostitutes. No... no... no... no... i did NOT learn this from personal experience... I overheard it in the hotel lobby. Interestingly enough, Wikipedia has an entire page devoted to Prostitution in Germany, where I was able to verify this.
And now that I've spent my 15-minute lunch-break blogging, I guess it's time to get back to work.