Warner Home Video can kiss my ass.
Today I received my long-awaited copy of the massive 14-DVD Superman Ultimate Collector's Edition which contains the coveted "Richard Donner Director's Cut" of Superman II that I have been waiting 25 years to see. But when I open it up, I find out that my box has TWO copies of Disc 3 and NO copy of Disc 5. I'm pretty upset about it, but mistakes happen, and so I figure I'll just give Warner Home Video a call and swap the duplicate DVD for the one I'm missing. Simple, right?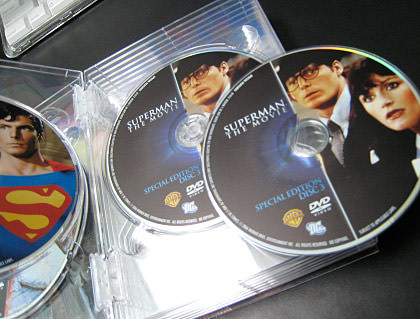 Except I can't find a customer service number anywhere in the box.
The closest thing I can find is an address for WarnerVideo.com. Ordinarily, this wouldn't be a problem... EXCEPT WARNER HOME VIDEO'S WEB SITE USES F#@%ING UNDERTONE NETWORKS "POP-UNDER" ADVERTISING ON EVERY F#@%ING PAGE!! Even with pop-up blocking turned on, I am still having to constantly close all their f#@%ing pop-under windows with advertisements for NetFlix. The thing is, I already subscribe to NetFlix, but now I am seriously considering switching to Blockbuster, because I don't want to give money to ANY company who supports the donkey-raping shit-eaters at "Undertone Networks" who hijacks my browser for advertising.
Eventually I find a customer service phone number to call. But when I call it I am told I have the wrong department and am given a different number. Then I am told I again have the wrong department and am given another number. Then I am told I STILL have the wrong number and am given another number.
So there I sit on hold for A HALF HOUR before I am told that the line I've reached is to replace Disc 1 and Disc 8, which have the wrong content on them. That's fine by me, but what about my missing Disc 5 and duplicate Disc 3?
"Oh, you have to return that to where you bought it."
This is such a crock of shit. Nearly an HOUR of time wasted, and they won't even help me.
So I call up Deep Discount DVD and am emailed a return-label TO RETURN ALL 14 DVDS in under five minutes.
Of course, in the meanwhile, I don't get to watch the remaining 11 DVDs which are perfectly okay (except for the disasters that are Superman III, and the horrendous Superman IV: Quest For Peace)... oh no. I have to wait for the box to get back to DDDVD, then wait even longer for the replacement box to get back to me.
When all Warner Home Video had to do was mail me my Disc 5 and process my replacements for Disc 1 and Disc 8.
But instead I have to frantically search for a customer service number that doesn't exist, visit their Undertone-infested web site to get a number, get passed around THREE TIMES before getting the right number, ultimately get no help at all, and then find out I have to wait another week or two before I even get to watch the movies... all because of THEIR mistake! THIS is customer service??
Seriously... Warner Home Video can kiss my ass. It's crap like this that makes me want to illegally download movies off the internet. Why pay money to get treated like shit when I can download movies with no hassle for free? Movie studios and record labels should be bending over backwards to treat their legal, paying customers with respect and impeccable service. Instead, we get treated like shit, branded as criminals, and are forced to suffer for their errors. And yet, somehow, I am supposed to care when these idiots say that profits are down because of piracy? YOU ARE PART OF THE PROBLEM, DUMBASSES!! After all this, why would I ever want to buy anything from Warner Home Video again?
I don't steal music or movies. I never have. Maybe I should start?