Why is it that every time I really want my camera, I've left it at home?
Since I haven't been out of the country for over a year, I didn't realize that my passport had expired until I looked at it this morning. This really sucks ass, because even if you pay the "expedited handling fee" it will still take up to two weeks to get your renewal. Since I am leaving in three weeks, I had to FedEx it out TODAY in case something gets screwed up along the way. This meant a trip to Wenatchee so I could have new photos taken at the AAA.
Because of the recent heavy snowfall, all the snow from Wenatchee's streets is piled up three feet high in the center turn lane. This is kind of a pain in the ass, because any time you want to make a left turn, you have to keep going until you find a plowed intersection, then do a U-turn and backtrack to where you needed to turn. This has been going on for the 20+ years I've been driving, and everybody just deals with it the best they can.
Except one crazy bitch who thought her little Nissan Sentra could break through a wall of snow three feet tall and make that left turn. Needless to say, this wasn't going to happen. Not only did she screw up her front bumper, but she high-centered herself on the snow. Since she was blocking the lane, two guys from a truck ahead of me decided to get out and see if they could push her off. The entire time she was screaming her head off and, when I rolled down my window to listen, this is part of what I heard...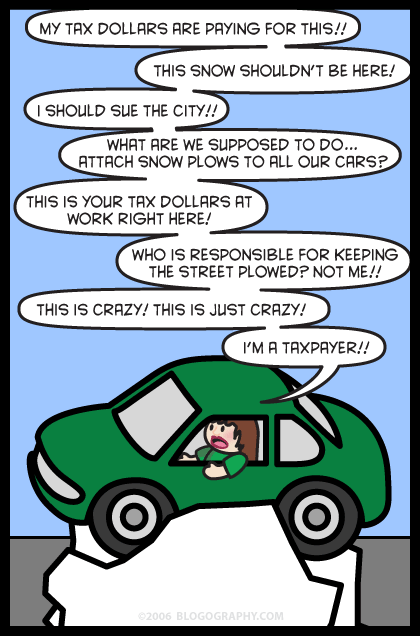 Of course, being the stupid f#@%ing dumbass that she is, she naturally decides to blame everybody except herself. I find clueless morons like this highly entertaining, and I was cursing myself for not having my camera with me because I would have totally posted a photo of the hilarity that was ensuing.
But, after a minute or so, the two guys managed to push her off the snowbank and she sped off... still screaming at nobody in particular, but mad at everybody except herself.
Typical.
Anyway... my new passport photo sucks ass, as usual. I look even more like a terrorist than last time, which is bound to make for some exciting new memories to treasure as I pass through Customs for the next ten years. Of course, like anybody who travels extensively, I'm sure that I've already got a lovely profile on record with Homeland Security. Hopefully it only says nice things about me, because I always try to be nice to everybody when I enter or leave the country.
Of course, if I ever DO get detained, I now know exactly how I should act...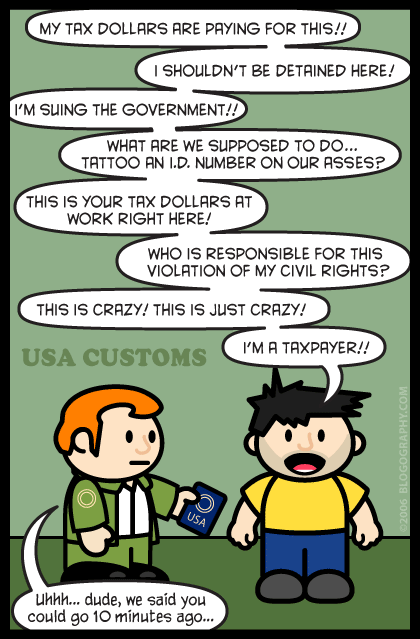 Yes. From what I see on a daily basis, raving like a complete idiot seems to be the American Way now. I can totally do that. US Customs agents would be disappointed if I didn't act like a fool... after all, I'm sure they find clueless morons highly entertaining as well.
Doesn't everybody?
Except clueless morons, of course. They just don't know any better.