Every once in a while I get an email asking me questions about the DaveToons I draw for Blogography. Usually it's asking which program I use to draw them (Adobe Illustrator) or how long it takes to make one (about 5-15 minutes depending on difficulty) or how I animate them (Toon Boom Studio) or how I learned to draw them (I'm self-taught). A more extensive explanation of the awful, semi-fictional PG-13 truth is here.
But today's email asked a question I've never received before... what cartoons do I like, and where do I get my inspiration for the Lil' Dave and Bad Monkey toons I draw?
Hmmmm... where to start? I have loved cartooning and animation for as long as I can remember. Disney, Looney Tunes, and Peanuts were an obsession in my formative years, and led to a life-long love which has expanded to include new favorites, like Katsuhiro Otomo and Hayao Miyazaki.
But when trying to trace what inspires Lil' Dave and Bad Monkey specifically, I can narrow it down to three sources (that I am consciously aware of, there are many more I'm sure)...

Calvin learns why Dave is afraid of cauliflower...
CALVIN AND HOBBES
Bill Watterson's master work Calvin and Hobbes is simply the best comic ever created. It's all at once riotously funny, touchingly poignant, and wonderfully life-affirming. How Watterson managed to pack all that into a strip about a little boy and his stuffed tiger is nothing short of miraculous. I wouldn't presume to think that Lil' Dave is on a level even approaching Calvin's brilliance, but I do like to think that he shares the innocence and imagination that made Calvin's world so much fun. If I was stranded on a desert island and could have only one book to take with me, it would be The Complete Calvin and Hobbes. There's a part of me that will always be hoping that Watterson will one day release a new Calvin project, because reading it is an experience you never want to end.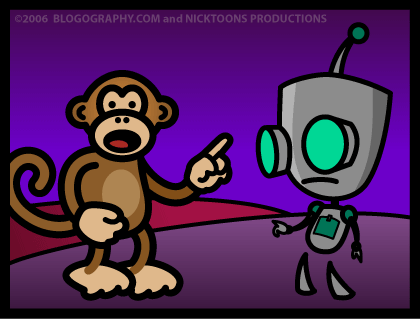 Bad Monkey meets GIR from Invader Zim
INVADER ZIM
It is always a source of great sadness that the wacky and wonderful world of Jhonen Vasquez's Invader Zim was cancelled way before its time. It was a cartoon series that actually seemed to be heading somewhere, and the sheer insanity of it all made me fall in love with the show from the first time I saw it. But, as great as the character of Invader Zim is, it's his malfunctioning robot sidekick GIR that I liked best. He's an irritating, bungling, inept, and totally insane little companion... but Zim loves him anyway. Much like Bad Monkey's naughty, drunken, and totally inappropriate behavior is likewise irritating to Lil' Dave, but he loves him just the same. If you've never experienced Invader Zim, it's kind of hard to explain... but you can buy the show at the iTunes music store (or rent the DVD) and see for yourself. Most people are probably not going to dig it, but it's one of my favorite cartoon series of all time (followed by Batman: The Animated Series, Pinky and The Brain, Family Guy, and Top Cat).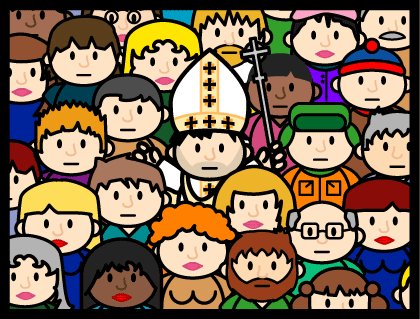 DaveToon homages to South Park pop up from time to time. Here there are FOUR!
SOUTH PARK
If there is one show that has forever changed the landscape of cartoons as a medium for adult entertainment, it would be South Park. Sure The Simpsons revived the genre of more mature-oriented cartoons that hadn't been seen since The Flintstones, yet it was South Park that shattered the genre completely. But, to me, even more important than what the show does is how it does it. The first incarnation of the show was crudely animated by hand as a school project for Trey Parker and Matt Stone. They didn't have a studio, massive funding, or anybody telling them what they could (and couldn't!) do... yet look what came of it. This is inspiring to anybody who dreams of creating animation of their own, and has certainly inspired me to goof around with it.
Argh. I have the sudden urge to watch Invader Zim and South Park while reading Calvin and Hobbes. I'm never going to get caught up with my work now.