Argh. Something has gone terribly wrong, because I haven't been able to comment on any TypePad blogs (or even read any BlogSpot blogs) since I got to Chicago. That's kind of frustrating,
Another late night. It would seem that getting caught up on sleep is simply not in the cards this trip. Oh well, last night was time well spent because I met up with fellow bloggers Diane and Kevin at Chicago's Pizza for dinner, followed by a bit of bar-hopping on the cold (so very cold) streets of Chicago. Fun times. Fun times...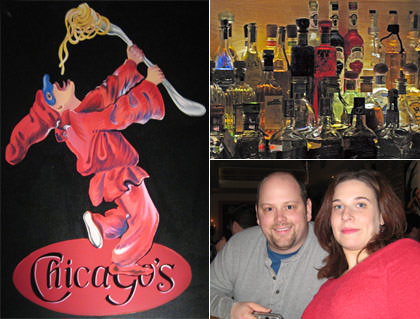 Uhhhh... that clown must REALLY love spaghetti...
And, naturally this morning was another spectacular day, so sleeping in until noon was not an option. Instead I decided to wander down to the Adler Planetarium, where I had never been before...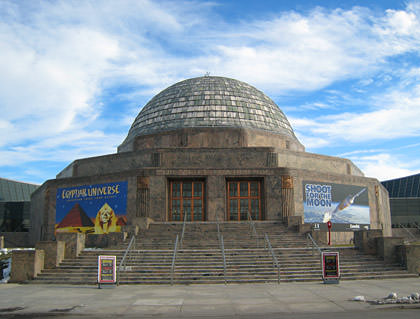 Wow. This looks like it came out of a game of Myst!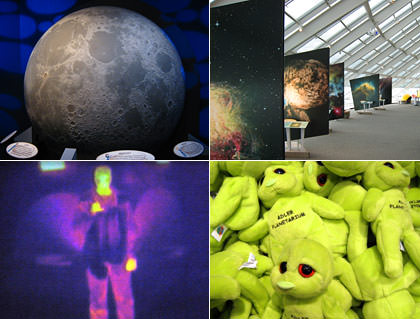 Yeah, baby! I so totally look hot in infra-red!
From there it was off to take in the King Tut exhibit at The Field Museum...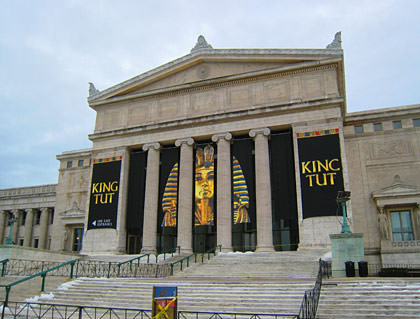 Ignore the signs! The King Tut entrance is around back!
While waiting for the reserved entry times, we got to say hello to Sue the dinosaur...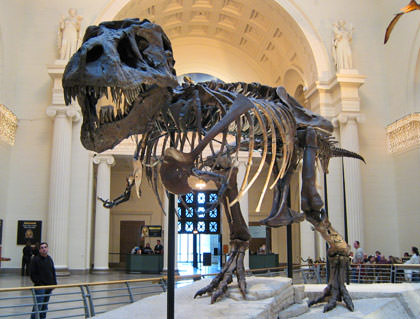 She looks a lot more ferocious in person.
Then Jenny, who is far braver than I, risked getting gored by wild elephants so she could get an action shot...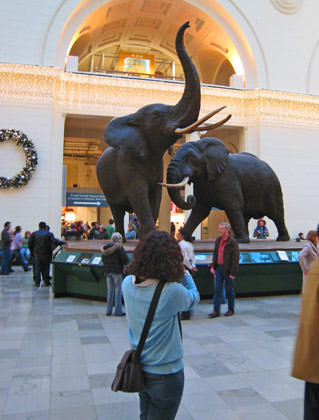 Jenny makes the perfect human shield when you need protection from wild animals of the Serengeti.
There were NO PHOTOS ALLOWED in the King Tut exhibit, which is a pity because there was some pretty cool stuff in there. Fortunately you could take as many pictures as you wanted everywhere else in the museum...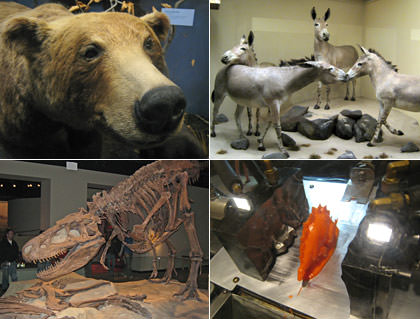 Ultimate Teddy Bear, Wild Asses, Humiliated Dino, and Plastic Stegosaurus Birth.
Of course, the most funnest thing of the day was when we got orange plastic dinosaurs from one of the Mold-A-Rama machines. I've named mine Spike, which you can see here thanks to the iSight camera on my MacBook...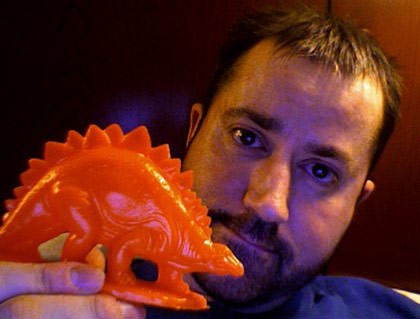 RAAWWWWRRRRRR! Says Spike!
Spike was a little warm and squishy when he came out of the machine, but he firmed up okay.
And thus ends my short time in Chicago. I'd write more about the day's events, but I have to get up insanely early in the morning to catch my flight, and had probably better try and get some sleep.