So there I was killing time while waiting for Veronica Mars when The Daily Show comes on. I totally love The Daily Show and quickly became engrossed in the "fake news" of the day. Then the guest for the evening shows up and its Tom Waits. I've heard of him before, but don't know that I'm familiar with any of his music. I think there was a time I had him confused with Paul Young or something, but other than that I have no idea.
Waits is being interviewed and seems a decent guy and everything, when John Stewart announces there's going to be a song. "Oh goodie" I say to myself, "he's supposed to be good."
Holy shit.
Worst. Singer. Ever.
Seriously, it was so bad that at first I thought it was some kind of joke. I kept waiting for John Stewart to pop up and they'd have a laugh. But Jon Stewart never came. The tragically bad "song" just went on and on. It sounded kind of like a dry heave taking place during a case of chronic diarrhea. If it weren't for Veronica Mars later that night, I probably would have tried to microwave my head in hopes that dying would somehow erase the memory of the horror.
And yet there are people who pay to listen to this stuff?
If you're one of them, I apologize and everything, but holy crap.
Of course it's not like I could do any better. I am a lethally bad singer myself. But at least I realize this and don't inflict my damage on others (unless its karaoke night and I'm really drunk)...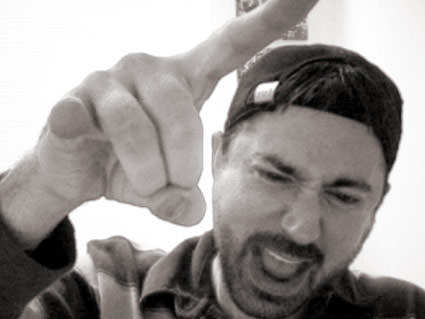 Okay, that's a lie.
There are also those few songs that come on the radio which compel you to sing along, but I don't really have any control over that. Who does? Songs like Bon Jovi's Living on A Prayer. Or Billy Idol's Rebel Yell. Or AC/DC's Back In Black. Or even something totally inexplicable, like Hall & Oates' You Make My Dreams. It's this last one that caused one of my most embarrassing moments ever. There are many, but this is one of those that you keep replaying in your head while saying to yourself "WHY? OH LORD WHY?!?"
It was four years ago and I had just returned from a trip abroad. I don't really get jet-lag anymore, but I was incredibly tired. Since I had to be in San Francisco the next morning, I didn't bother flying home, but instead decided to stay at a hotel at Seattle's airport. This was when the iPod had just been released, and I had made a habit of listening to my brand new toy as I fell asleep. This was kind of lame, because I only had a few old CDs from my car ripped into it, but it was something new and I was having fun with it. A scant four hours later, I wake up and rush to the airport. Since this was a just 6-months or so after 9/11, security was ridiculous, and I had to be there something like 3 hours before take-off.
And so I make it to my gate. With nothing better to do, I take out my iPod so I can look all cool listening to those same old crappy albums... and proceed to fall asleep.
It's then that I have one of those delirious moments where you wake up without really waking up... all the while thinking that I'm still back in my hotel room because I'm completely mentally drained. Hall & Oates' You Make My Dreams has started to play and, for reasons totally unknown, I start to sing along.
In an airport waiting area full of people.
People I have to get on a plane with for a few hours.
And it was HALL & OATES!! Not something cool like AC/DC... but HALL AND FRICKIN' OATES!
It was right in the middle of one of those "You Hoo... Hoo Hoo Hoooooo" moments when I realized where I was and what I was doing. "Mortified" doesn't even begin to cover how I was feeling.
But, as bad as it probably was, I'm pretty sure I must have sounded better than Tom Waits did tonight on The Daily Show.