Strange. I got all ready for a bullet-point entry because I thought it was Sunday for some reason. I wonder what that's all about? Oh well, it's not like I haven't got a million other things to blog about. In fact, I never understand how bloggers get writer's block because surely everybody has a more exciting life than mine? Today I sat in an office almost all day, and yet I am still having to decide which thing I should write about... The bitch who flipped me off on the way to work? Nearly breaking my arm trying to get Chili Cheese Fritos out of the vending machine? Having Robert iChat me from his toilet to tell me he got a new MacBook with iSight camera? The inexplicable hate mail I got this morning? My new — hey, wait a second, yes... let's go with the hate mail...
I usually don't share viewer hate-mail because, well, it's not like I want to encourage these people... but today's rant was so utterly bizarre that I feel compelled to share. And the reason I say it's bizarre is because it wasn't complaining about the usual stuff like my imaginary abuse of clowns, my support of gay marriage, my assertion that Pat Robertson is insane, or my thinking that I'm God. Oh no. This time it's about chest shaving.
Yes. You read that right. Chest shaving!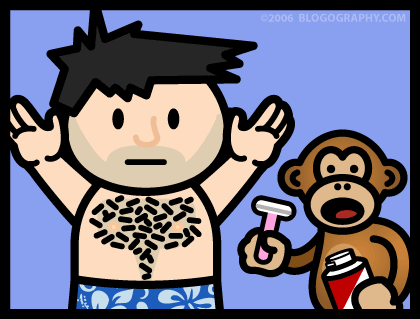 While reading the email I was all WTF? Because I didn't remember ever having taken a stand either for or against shaving chest hair. Why in the hell would I care what a guy wants to do with his chest? I don't even care what I do with my own. So there I am ready to delete the email as a total nut-job when I decide to Google myself and find out if I had inadvertently insulted chest-shavers along the way.
It turns out that I kind of did.
But not really.
Last year I wrote about walking into an airport bathroom only to see a dude shaving his chest with an electric razor. Needless to say, I was freaked out about it, and decided to write about the horror of it all in my blog.
How could I have forgotten something like that?
I must have been blocking it from my mind.
Anyway, the email rambled on a while, but could ultimately be summarized in that I'm an asshole for calling the chest-shaver guy a "prissy bitch" and I shouldn't be critical of somebody else's grooming choices. Or something like that. But that's where the email hater was wrong. You see, the prissy bitch option was Option B. As I explained in the entry, I did not choose Option B... I selected Option F. I did not call the guy in an airport a prissy bitch at all. So this time the hate mail wasn't even justified, because the writer jumped to a conclusion before reading to the end of my entry.
Who's the asshole now? Huh? Huh? Huh?
Hmmm... maybe I should have written about the Chili Cheese Fritos incident after all...