We interrupt the regularly scheduled programing here on Blogography to bring you an important message: You get no points for trying.
You either do something to meet the exacting expectations and desires of every single person on earth, or you get sued. Apparently, it's the American Way, because we're an all-or-nothing kind of country.
Today Boing Boing has regurgitated a story that involves a lawsuit filed against my local library here in Washington State. For those who don't read it, Boing Boing is one of the most popular websites in existence. It's a site I read regularly, and enjoy quite a lot. But this "story" simply goes to show that any purported "news site"... no matter how popular... doesn't always know what the fuck they are talking about.
The deal is basically this...
All 28 branches of public libraries in the North Central Regional Library System provide public internet access so that those who can't afford a computer or don't have access to the internet have the same opportunities as those who do. But things are never as easy as just trying to do something helpful, there are always people who are intent on spoiling things for everybody. In this case, that means people accessing porn and other material in full-view of anybody (including children) walking by. Even worse, kids being the crafty buggers they are, will gladly surf for porn on their own without having to look over anybody's shoulder.
Of course, exposing minors to porn is illegal.
By trying to do something good, the library gets in trouble. And you get no points for trying.
So the library attempts to address the problem by contracting with a "filtering service" which attempts to block porn and other age-inapropriate sites so that the library can still provide free internet, but not get sued for doing so. The filtering service is not perfect... some sites that probably shouldn't be blocked end up getting blocked... but the library is trying their best to service as many of their patrons as they can with what they have, and you simply cannot make 100% of the people happy 100% of the time.
And have I mentioned that you get no points for trying?
No. Instead you get sued by the ACLU and bashed with snippy inane comments by internet legend Cory Doctorow on Boing Boing.
There's so much wrong with all this... namely that nobody has their facts straight... but I think I will start out with explaining something to both Boing Boing and the ACLU that they are apparently unaware of: THIS IS NOT OUR LIBRARY...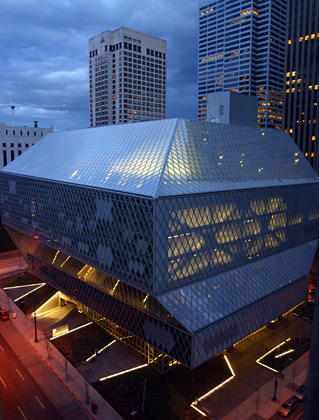 That stunning, multi-story, high-tec structure with space-age capabilities and an entire team of librarians and technical staff belongs to Seattle. No no... the libraries in rural Eastern Washington look like this...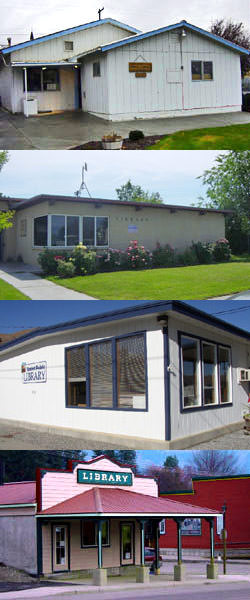 These tiny libraries sometimes have no more than a single room and are staffed by one or two librarians who may have been working there for decades.
Now imagine this... you are a small-town librarian who has given years of faithful service to your community. Your daily tasks involve arranging books, checking out materials, and helping people the best you can to find information they are looking for. It doesn't pay a lot, but it's a job you love and trying to help people is something you feel good about.
Then one day you find out that you have to clear out a corner of your small building so that you can make room for a public internet computer. This allows you to even better serve the community you love, so you do your best to accommodate the new technology and offer internet access to people who may not otherwise have the opportunity to use it. You may not have ever even turned on a computer before, but you try your best to learn how things work so you can do your job.
But you don't get any fucking points for trying... haven't you been paying attention?
Instead you get sued for "refusing to honor requests by adult patrons to temporarily disable the filter for sessions of uncensored reading and research" (among other things).
It's all a crock of shit of course... you didn't "refuse" anything... you just weren't able to comply with a request. But fuck you... the fact that your filtering service keeps me from looking at monster trucks with naked chicks painted on the hood means I'm going to SUE! SUE THE LIBRARY FOR TROUNCING ON MY RIGHTS, DAMMIT!!
Give me a fucking break.
The simple fact is that providing 100% unfiltered browsing in a library so small that you're unable to keep people from observing said browsing is impossible. It just can't happen. Otherwise some kid is eventually going to see something fucked up and some parent is going to sue for a million dollars on the grounds of child endangerment or something like that. So while the library may like to give you unfiltered access, they just can't. It's as simple as that.
The best the library can do is try to come up with a solution that helps as many people as possible without getting sued... either for providing too much access... or not enough.
And, dammit, they DO try.
The North Central Regional Library System knows there is a problem with the filtering service and has spent a year researching alternative while waiting for their filtering contract to run out. And now that the contract IS running out, they have been spending the past two months switching over all 28 branches to a new solution... it's a centrally managed system that will more easily allow a librarian to have a site unlocked for viewing. It's not 100% unfiltered because, I say again, that's simply not an option here, but it's an honest attempt to better address an unsolvable problem.
But did the ACLU bother to call the library and learn this before they filed their lawsuit and wasted tax dollars on total bullshit? No. Did Cory Doctorow bother to call the library for a response? No. Heck, even if Cory Doctorow didn't know that the filtering software was being phased out in favor of trying a different approach... did he at least call the library to see if he might help-out or suggest an alternative to filtering before bashing them with his article? Of course not! That doesn't attract readers and increase ad revenue! Far more fun (and profitable) to attack a small-town library that is just trying to service their patrons the best they can... because THAT'S WHERE THE MONEY IS!! Well, if Doctorow feels like using some of that Boing Boing cash to build us bigger libraries with secluded "adults only" rooms so they can provide unfiltered access, more power to him. But who is going to be responsible for cleaning up that room knowing what crazy shit is bound to go on in there?
How did America get this way? Nobody wants to try lending a hand or helping people to help others... they just want to sue and attack them every chance they get. BECAUSE YOU GET NO POINTS FOR TRYING!
How sad.
The insane thing here is that the libraries are being portrayed as these evil entities that want nothing more than to violate taxpayers by limiting their access to freely available information. It's categorically absurd, of course... especially considering that the mission statement of the NCRL is as follows: "The Mission of the North Central Regional Library is to promote reading and lifelong learning."
You will note that nowhere... nowhere... in that statement does it say that the mission of the library is to keep adults from performing research... or reading Boing Boing... or looking at works of art that contain nudity. Seriously, why would they give a shit? But it makes for a flashy lawsuit and good drama to say otherwise, so that's what we get.
I wonder if the ACLU and Boing Boing would be happier if libraries were to rip out internet access entirely rather than to try and come up with a solution that addresses both the threats of being sued for too much access and being sued for not having enough access? What other option are these libraries going to have? It's a no-win scenario because they're going to get sued no matter what they try and do.
And you get no points for... well, you get the picture...
We're rapidly becoming a country that's going to be afraid to TRY anything... who do I sue for that?