My new MacBook Pro has arrived, so any time I would have spent blogging tonight was consumed with installing my software and making sure my data transferred across okay. Fortunately I have a .Mac account, so most of the configuration and settings were adjusted automatically, but there was still a few hours of work to be done.
The good news is that everything is up and running just fine...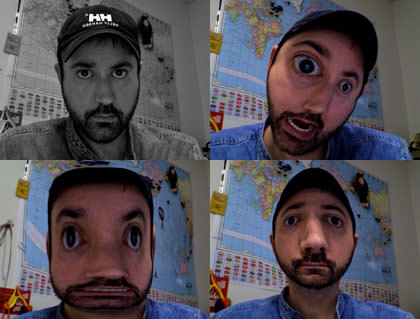 I kept notes on my thoughts, impressions, and complaints as I went along and am putting them in an extended entry. Mostly boring stuff, but I like to keep a record of things like this for future reference.
PACKAGING. Nobody does packaging better than Apple, and the beautiful carrying case box for my new laptop is sexy as hell. I won't be tossing out this box, but will instead be displaying it on my shelf!
SIZE. The first thing I noticed is that my new MacBook Pro is bigger AGAIN. Just like my previous Aluminum PowerBook was bigger than my Titanium PowerBook before it. WTF?? Why do they keep making the shit BIGGER? Aren't things supposed to get SMALLER as technology gets better? This is a problem for me, because I travel a lot and would prefer my equipment be as compact as possible.
FINISH. Not much has changed from my previous PowerBook... it's the same crappy aluminum enclosure. This is unfortunate, because it means that the finish is going to be pitting and peeling off on the wrist-rest and mousepad button just like last time. This makes your $3000 laptop look like shit in short order (something that never happened with my beautiful titanium PowerBook). I've ordered an "Invisible Shield" to try and keep this from happening, but it's pretty lame that Apple doesn't come up with a better solution.
CONSTRUCTION. The metal enclosure feels solid, and looks better than any other laptop on the market. The problem is the keyboard, which is total shit, and the mouse button, which is worse than shit. My old titanium PowerBook had a responsive keyboard that made typing a dream and a mousepad button that has a nice "click" to it. All the aluminum models have had mooshy keyboards and mooshy mousepad buttons that drive me insane. I love the the backlighting on the keys, but it doesn't compensate for how bad the keyboard is to actually use (just like last time, some of the keys actually seem to stick!). This is inexcusable, and I just don't get it. When you buy Apple, you're supposed to be buying the best.
ISIGHT. An iSight camera is built into the lid's frame above the display. I use a camera only rarely, so this wasn't a big deal for me. Surprisingly, the tiny built-in lens produces a brighter, better-looking picture than my full-size external iSight. This makes the included "Photo Booth" software even more useable, though "useable" for what is anybody's guess (posting your face to your blog, perhaps?).
DISPLAY. Okay, here's where I start getting pissed. After going from a resolution of 1280x854 to 1440x960 with my new PowerBook last year, I was shocked... SHOCKED... to discover that my new MacBook Pro takes a step BACKWARDS to 1440x900. I've gone "pro" but have somehow lost 60 vertical pixels? Seriously... WTF?!? I am guessing that the loss was to make room for the built-in camera, but what kind of dumbass decision was that? Even if you use the camera every day, you will NEVER use the camera more than you're going to use your display! Vertical "real estate" is precious, and losing even 60 pixels is a very big deal. This is just plain idiotic. Since when does screen real estate get WORSE in a newer generation computer? I can forgive a lot, but losing 60 vertical pixels is going over the line. On the up-side, it does display a beautiful image.
PERFORMANCE. Now here's where things start looking up. I did not notice much of a difference between my 1 GHz titanium PowerBook G4 and my 1.66 GHz aluminum PowerBook G4. Sure things were a little snappier, but overall it wasn't a major leap. The only reason I upgraded was because I needed more powerful graphics for 3D work... the processor was just fine. There is, however a very noticeable difference in moving up to the wonderful Core 2 Duo 2.33 GHz chip in the MacBook Pro. This sucker screams. Any software that's been compiled as a "Universal Binary" for Intel chips runs brilliantly. Apple's Final Cut Studio and Aperture run so much better than on my previous PowerBook. The performance of this machine almost compensates for every other problem I have with it.
ADOBE. Sadly, Adobe applications are not "Universal Binary" and take a severe performance hit when running on an Intel Mac. Even worse, they crash... constantly. Part of this is not Adobe's fault, because things got much worse after Apple released their 10.4.8 Mac OS update, but the lion-share of the problem lays on Adobe's shoulders. Yet they don't seem to be doing anything about it. I understand that it is a mammoth task to re-write programs as complicated as those in Adobe Creative Suite. It's going to take time, and I'm fine with that. But for heaven's sake... at least patch up your current stuff so it doesn't crash every ten minutes! For this reason alone, I am going to be very happy to be getting my PowerBook back from Apple Service. Creative Suite 3 can't come fast enough.
SOFTWARE. As usual, you get Apple's amazing iLife suite (iPhoto to manage photos, iTunes to manage music, Garage Band to MAKE music, iWeb to build web sites, iMovie to make movies, and iDVD to burn your movies to a DVD) which (along with Mail and the Safari web browser) is just about everything you need. But you also get a couple nice extras: OmniOutliner (idea organizer) and Comic Life (comic maker). This is less than last time, because my old PowerBook also came with Art Director's Toolkit (design tools) and the much-loved OmniGraffle (flow-chart maker). Still, the stuff you can do with a Mac right out of the box is nothing short of brilliant. It's not just comprehensive software, it's fantastically useful software that's easy to use and wonderfully designed.
EXTRAS. The MacBook Pro can be used as a media center thanks to Apple's "Front Row" program, and comes with a remote control to use with it. Firewire 800 is back (after having gone missing in the original MacBook Pro). New to the Apple laptop is an ExpressCard/34 slot, which takes the place of the PCMCIA card slot (and is bad news, since now I am going to have to buy a new FlashCard reader). You also get a monitor adapter in the box, since the MacBook is capable of either mirroring or extending the internal display with an external monitor.
CONCLUSION. Overall it's a good laptop. I would have preferred to get more than a year out of my previous PowerBook, and hope against hope that this one holds up better, but I'm going to start crying over it. Apple hardware is the cream of the crop, and it doesn't get much better than the MacBook Pro. If I could change one thing, I'd give it a better keyboard... but it's hardly a deal-breaker. In the end, I may question some of Apple's decisions, but can't deny that I am happy with my purchase and look forward to using it. As with most every Apple product I've ever purchased, I'm giving it a thumbs-up.