GAH! The roads here are beyond nasty. My car handles fairly well in the winter months, but when you have ice on top of ice on top of ice, it's pretty harsh for driving. Even if your tires grip on the top layer, you slide on the layer beneath. Winter blows.
• Funniest moment of my day...
I decided to watch Law & Order: Criminal Intent off my TiVo when I got home from work. It featured guest appearances by Bob Saget and Catherine Bell as husband and wife. Eventually Bob's character finds out that his wife is having an affair. There's this dramatic pause and then he cries "HOW COULD YOU DO THIS TO ME?!??
I started laughing uncontrollably.
Suddenly I couldn't see these two actors as their characters.
All I wanted to hear her say was "Because I'm CATHERINE F#@%ING BELL and you're just BOB SAGET! That's how!"
I mean seriously...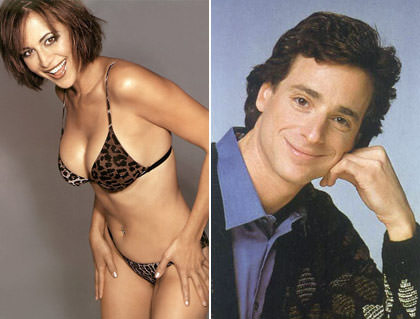 The episode also featured Bernadette Peters with her Kewpie Doll lips as a tough-talking defense attorney, which was almost as funny. Don't get me wrong, I like Bernadette Peters okay, but she was horribly miscast in this role. If she's going to do television, can't her agent find her something that will play on her strengths?
• Second funniest moment of my day...
I received a spam email with the subject line "A man with a small penis is like a butterfly without wings." This moment of poetic zen was so beautiful that I was very nearly brought to tears. Laughing. I suppose this means a man with NO penis is like a cockroach without a... uhhhh... I dunno. I hate roaches anyway.
• Third and final funniest moment of the day...
After my "Tom Waits Sucks Ass" rant yesterday, a kind reader gifted me his first album "Closing Time" which I thought was some kind of torturous revenge or something. Gritting my teeth I pressed play...
...and my head didn't explode as expected. The album is not really my cup of tea, but it ain't that bad either. It's wholly listenable, and even enjoyable in parts. I have no idea what in the heck happened between this album and his appearance on The Daily Show last night, but I'm guessing it involves being declared legally dead and being brought back to life by a voodoo ritual gone horribly wrong. I find the thought of it funny for some reason.
Yeah, I guess it wasn't a very humorous day after all.