It would seem that bullet-points on Sunday is getting to be a tradition. Rather than fight it, I've chosen to embrace it. From now on, I'll save up all my bullet point crap during the week for Sunday. Easy.
• There's a nifty (but too short) interview with god Steve Jobs over at Newsweek. His assessment of Microsoft's incredibly fugly media player is priceless. When asked if he was concerned about the "wireless connectivity" functionality of Zune, Jobs replies: "I've seen the demonstrations on the Internet about how you can find another person using a Zune and give them a song they can play three times. It takes forever. By the time you've gone through all that, the girl's got up and left! You're much better off to take one of your earbuds out and put it in her ear. Then you're connected with about two feet of headphone cable." — I think I laughed for ten solid minutes after reading that.
• My favorite comic book series of all time is Superboy and The Legion of Super-Heroes. I still remember the first time I discovered it, which was in a series of Whitman/Gold Key reprint 3-Packs at the local SafeWay. The issues that hooked me were the first I read, #255-257. I then spent years filling in my collection all the way back to Superboy #197 which was when "Legion" got added to the title (not a mean feat for a kid on a fixed allowance in middle-school!). Anyway, WB Kids has created a Legion cartoon, which is surprisingly good...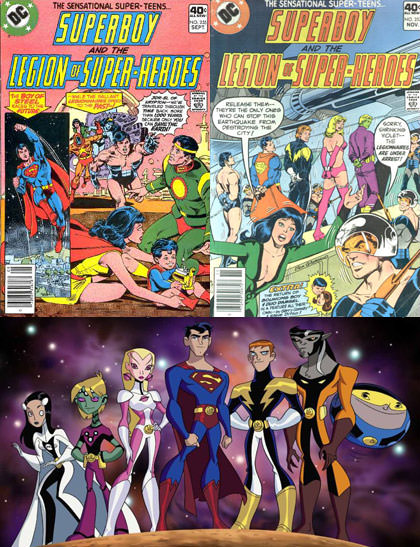 Superboy is called Superman for some kind of stupid legal reason, but is portrayed perfectly. My favorite character in the cartoon is Brainiac 5, which they have changed into a full-fledged robot. I should hate that (he's humanoid in the comic), but he's just so cool that I can't manage it! If you like cartoons, you should check it out Saturday mornings.
• I watched a great show on The Science Channel called "Building the Ultimate... A Giant Out of Water" which was about the construction of Hong Kong's New International Airport. One of my regrets in life was that I never got to fly into Hong Kong's old Kai-Tak Airport on the infamous "13 Approach" (which you can read about on Wikipedia). Once they moved to the new airport, that thrill-ride was closed forever. I think that this show is actually a series, but The Science Channel's website sucks so much ass that I couldn't find out for sure. I searched for several minutes, but the site kept popping up empty windows (via Flash, because I have pop-up blocking on) and giving me errors. Why bother to have a site at all if it's totally useless?
• I love standup comedy, and am totally addicted to Comedy Central Presents. I've discovered so many talented comics on this show, including Mike Birbiglia, Nick Swardson, Kyle Cease, Stephen Lynch, and many others. Great, great shows. So where the f#@% are the DVDs?? You can get a few of the shows at the iTunes Store, but where are the DVD sets? This is a completely missed opportunity, because if they were priced fairly, they'd sell huge.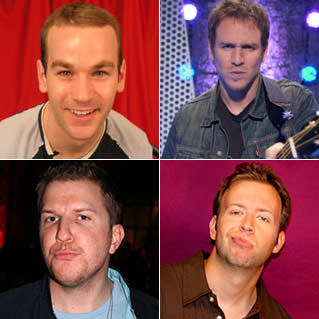 • In other "I wish it were on DVD news" I just saw Richard Grieco's If Looks Could Kill for the hundredth time on television. How can such a funny movie which has memorable characters by Linda Hunt, Roger Rees, and Gabrielle Anwar not be released? I want a Special Edition Director's Cut double-DVD set loaded with extras and complete cast/director commentary... yesterday.
• Betty White made a welcome (if unexpected) cameo in last week's Boston Legal that was pretty cool. I wish I could find a screen cap to post, because she totally steals the show without even saying a word! I've said it many times, but Betty White kicks ass. UPDATE: Got em'!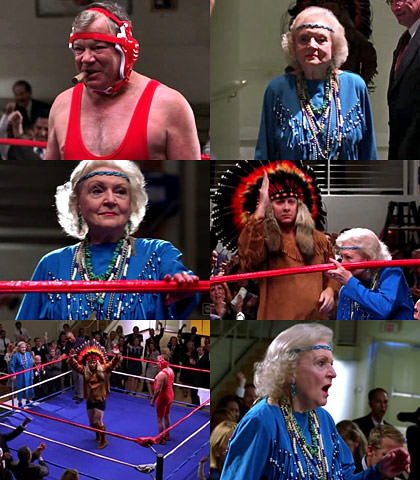 • Even NBC must be realizing how much the current season of Saturday Night Live is sucking ass, because they didn't even show a new episode last night. Instead, they repeated a sweet episode with Kate Hudson and Radiohead that had Will Ferrell's flawless impersonation of James Lipton from Inside the Actor's Studio. And, as an apology for just how bad SNL is sucking, they are also starting to release complete seasons of the show on DVD (with musical guests!!). I am so going bankrupt buying all these sets.
• Lastly, if you want your mind blown, here's a cool presentation in Flash of "Imagining the Tenth Dimension."
Well that was relatively painless. Look for all new bullets next Sunday.