Halfway through each month, I have an alarm set so I will remember to check my server stats and see if I need to be offloading some bandwidth. This ensures that I won't overrun my limit and have to pay pay pay. Fortunately, there are some very kind and generous people out there who donate bandwidth when I need it... if I remember to use it.
Anyway, for the first time in years, unique visitor counts for Blogography went down. It was bound to happen eventually... I was expecting it to happen... but I still admit to being surprised. Apparently nobody loves me any more.
Well, 1.2% of the people who used to love me don't love me any more.
I should have never put up those pictures of Lindsay Lohan.
It's a good thing I am not a stats whore or I might have to do something drastic, like post those amateur porn videos I made when I was young and needed the money. Nothing makes visitor counts skyrocket like amateur porn! Well, except professional porn. I suppose if I drop another 5% I'll have to look into turning pro. Nothing quite like whoring myself out to keep my -ahem- stats up.
Speaking of surprises... I rented a Samuel L. Jackson film I somehow overlooked called The 51st State which had the amazing Emily Mortimer as a bitchin' lady-assassin who likes to drive motorcycles and kill people. In other words, she's the perfect woman...
The movie was okay, but not nearly as good as the other Emily Mortimer film I recently saw... a sappy drama called Dear Frankie. This flick also stars Gerard Butler who, in turn, is starring in the most eagerly anticipated film of next year... 300, which is based on Frank Miller's awesome graphic novel of the same name. It looks amazing. An even better adaptation than Sin City, if you can believe it...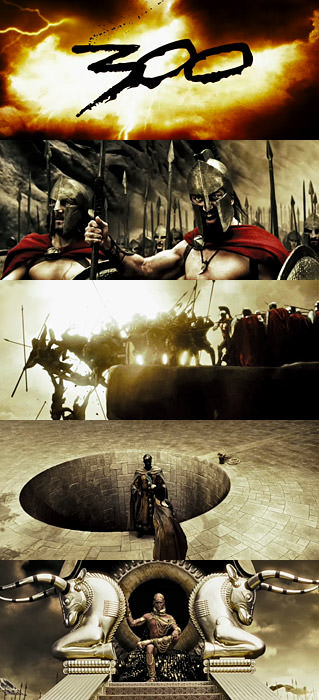 The totally bitchin' sneak preview trailer (along with a nifty making-of featurette) is available at Apple in delicious hi-def QuickTime. For those of you who (like me) fell totally in love with Miller's graphic novel, there's a very cool comparison between the film and book here. Even if you aren't interested in 300, it's still worth checking out.
And now I'm off to "research" my pending porn star career...