I am writing this at 2:30am because of a gross error in judgement while self-medicating.
I have a lingering cough from being sick, so I took some cough syrup. But the cough syrup gives me heartburn, so I took an acid reducer. In order to stop the drainage that's causing the cough I took an antihistamine but, since that keeps me awake, I also took a sleeping pill. I was then worried that the sleeping pill wouldn't be enough to counteract the antihistamine so I also took a couple Excedrin PM which is a pain reliever plus sleep aid (which should also help with my headache). I figured all of those things could battle it out while I sleep, and went to bed at the shockingly early hour of 9:30.
I don't like to take pills but, when I'm sick enough, I apparently have no problem shoving the entire medicine cabinet down my throat.
Anyway, it turns out that the sleeping pills win the battle, but the antihistamines win the war. So here I am wide awake at 2:30am watching the season premiere of Battlestar Galactica on my TiVo while eating a chocolate bar, drinking a glass of milk, and writing in my blog...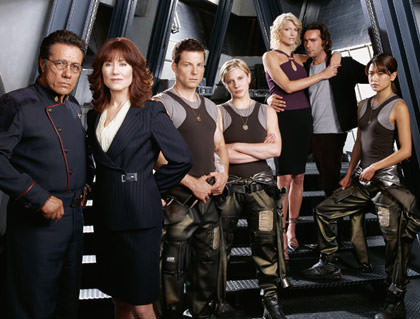 What an amazing show. I am dumbfounded how Battlestar keeps changing so radically each year. More stuff happens in 15 minutes on this program than happens in 15 episodes of Lost. But almost nobody I know watches it because they're "not into science fiction." What a shame, because it's highly entertaining. Educational too, because it's added "frak" to my vocabulary (it's the "profanity of the future!"). Ordinarily this would be a good thing but, because so few people I know are watching, I end up sounding pretty ridiculous whenever I use it. Oh well. It's their loss, because the evil Cylon robots who kill everybody and have now enslaved humanity are so frakin' hot...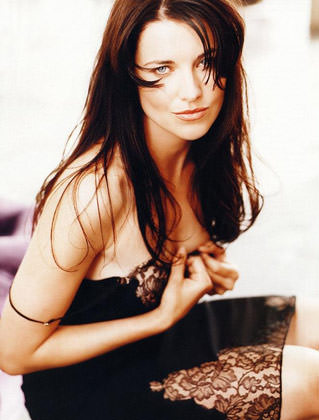 Speaking of frak... it would appear that IKEA, the bestest furniture store ever, has discontinued the shelving units I use for my DVDs. I couldn't find it online, and it doesn't help matters that I can't remember the name of the thing. For all I know, it could be called FRAK. But it's probably FITBO or FLARG or FLOOGBANGER or something like that. I once studied a bit of the Swedish language for a trip to Stockholm (only to find out that everybody there speaks better English than I do). You'd think that this would give me an edge in remembering the names of my furniture, but it does not.
Oog. Is it sad that I've been blogging so long that I am able to provide a link to trip I took three years ago?
UPDATE: It's all good. I passed out around 4:00am, then slept until 9:00am. And now I am up and watching the awesome season premiere episode of South Park for the third time, all because Anthony mentioned it in the comments. I think this is now my favorite episode of the show ever, which is amazing considering this is their tenth season!