Holy crap! Is it just me, or is this season of Saturday Night Live just painfully bad? The show last night with Jamie Pressly has to be the worst episode I can ever recall seeing, and horribly embarrassing for everybody involved. Losing Tina Fey as head writer (and Weekend Update anchor) has killed what little was left of a once great show. I never thought I'd be longing for the insanely stupid "Goat Boy" to come back to SNL, but ANYTHING would be better than this. Who in their right mind will want to host a show that can make even the usually-funny Dane Cook suck ass?
It's a lazy Sunday and so it must be time for bullet points...
• Tower: Sad news this weekend, Tower Records is closing its doors around the globe. Back in high school and college I would look forward to trips to Seattle with my friends because we would often stop at Tower and browse their collection of imports and 12-inch singles. Many times, we'd hit all three locations in Bellevue, Seattle Center, and the U-District to be sure nothing was missed. Of course now-a-days eBay and online specialty shops are a far more reliable and efficient way of finding music, but Tower is responsible for filling many holes in my collection in those early years. Since the store has fond memories for me, I've always stopped at other locations I find in my travels, including shops in London, Dublin, Hong Kong, Singapore, Kuala Lumpur... plus some shops throughout Japan, and several here across the US.
• CBGB: As if that wasn't enough, CBGB is closing its doors as well. I've only been once, but still consider it to be an essential NYC experience and am sad to see it go. Rumor has it that a new CBGB is to be opened in Vegas, which seems wrong in so many ways. If this is actually true, I don't feel so bad that my CBGB T-shirt was ruined years ago.
• Quake: Washington's own Mt. Rainier, which I fly past frequently when inbound to SeaTac Airport, was hit by a minor earthquake last night which I could feel almost a hundred miles away. It is a bit worrisome to think that volcanic activity might be in its future. If such a beautiful landmark were to become another crater (like Mt. St. Helens), it would really put a dent in Seattle's southern view...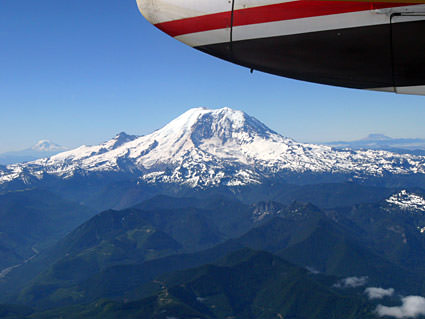 • The Departed: As somebody who thinks that Martin Scorsese hasn't made a great film since Goodfellas, I was most pleased with The Departed which may be his best work to date. This is kind of mixed praise though, because this film is essentially a remake of the brilliant trilogy of Infernal Affairs films out of Hong Kong. In many ways, I'd say the original works are superior (and well worth renting), but it's hard to deny that Scorsese did a remarkable job with his interpretation (cops with moles battle organized crime with moles in modern-day Boston). The violence, while harsh, is nowhere near the ridiculous levels of Gangs of New York (which I loathed) and the performances by Matt Damon and Leonardo DiCaprio are fantastic. Jack Nicholson is also great, as expected, but it's difficult to see him as his character instead of "Jack Nicholson" on the screen. About the only negative is the wholly implausible love triangle that develops unnecessarily, but it's a minor quibble. If incidents of blood and violence don't bother you, The Departed well-worth checking out.
Streaming: How is it that YouTube can serve up millions of streaming videos every day, and yet just about everybody else fails miserably at it? Every site I try to watch video on from Sony to Fox to E Online all end up re-buffering every 5 seconds which is just stupid. Why even offer video if it's going to be completely unwatchable? Just put your shit up on YouTube and let somebody who actually knows what they're doing deal with it.