After receiving not one, but TWO emails from Memoirs of a Geisha fans railing on me for my less than flattering review of the crappy book and soulless film adaptation, my mind turned to happier times. Times where I feel safe. Times where I felt unthreatened. Times where I am in control of my own destiny in a world gone mad....
Times spent wiping my ass.
And from there it was only a small leap to the horrifying realization that I am nearly out of toilet paper and will soon have to be making a trip to Target to re-stock up on critical household supplies.
Now, as I have mentioned here many, many times... I loathe shopping. Totally can't stand it. And to avoid shopping for as long as possible, I always buy in bulk. When I need a new pair of jeans, I don't just buy the one pair, I buy five. When I need ketchup, I buy three jumbo bottles to be sure I won't have to buy ketchup again any time soon. When I crave a Tootsie Pop, I buy an entire 100-count carton... I just don't mess around when I am forced to shop.
So understand that when I buy toilet paper, I am looking for maximum wipe-age. And when you want maximum wipe-age, there's only one thing to do... buy the Charmin Mega-Roll Mega Six-Pack...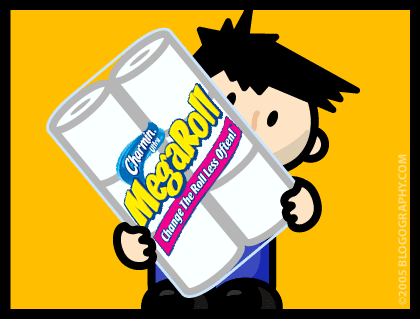 It's the Cadillac of toilet paper. And I must admit that when I saw the words "CHANGE THE ROLL LESS OFTEN" on the package, I broke down in tears of happiness. It's a dream come true for non-shoppers everywhere.
But there is a problem.
Target doesn't have a shopping bag big enough to hold a Charmin Mega-Roll Mega Six-Pack.
When you make your purchase, you have to walk out the door with this big-ass package of toilet paper where everybody can see you holding it. And that's when you realize it...
EVERYBODY IS GOING TO KNOW THAT YOU WIPE YOUR ASS!
And that bothers me for some reason.
What are people thinking when they see me walking through the parking lot with this Mega Six-Pack of toilet paper I wonder. "Boy that guy sure wipes his ass a lot!" Or perhaps "That dude has serious bowel issues!" Or maybe "Whoa, he must look at a lot of porn!"
I dunno. I don't want to know.
But it does kind of freak me out seeing all these condescending glances as I make my way to my car. "I JUST DON'T LIKE TO SHOP!" I want to scream at them. "DON'T JUDGE ME, LOVE ME!" I want to cry.
Why does buying toilet paper have to be such a traumatic experience? Shouldn't you be PROUD that you wipe your ass? I mean, it is a good thing compared to the alternative of NOT wiping your ass, isn't it?
Maybe it's just me. Perhaps I have wiping issues or something.