As a Certified Apple Whore, I bought a first-generation iPod the minute it became available. I then went on to buy an assortment of other iPod models because Apple owns my ass. I have not, however, purchased a video iPod because the screen is too small for extended viewing. Until they manage to make a model with a larger screen, I'll just have to make due with my iPod nano, iPod Shuffle, and third-generation iPod.
But now Microsoft has come along with a media player of their own called "Zune" which features a larger screen and other toys that the iPod lacks...
It will come as a surprise to nobody that I will not be buying one of these. The REASON I will not be buying one, however, probably will be surprising...
It's NOT because it's made by Microsoft. Though I hate MS Windows with a fury of a thousand suns, I'm perfectly willing to purchase other Microsoft products if they're the best option for me. I've owned MS mice. I use MS Office. I have an MS Xbox. I do not discount something out-of-hand just because Microsoft makes it.
It's NOT because Zune is ugly. Sure this product looks laughably bad... the tacky silver trim accents alone are enough to make me gag... but looks are fleeting. Take my Apple stuff. Sure it looks great out of the box, but it isn't built to stay that way. My iPod looks like shit because it's all scratched up. My beautiful aluminum PowerBook looks like crap because the metal coating wasn't anodized properly and is flaking off. Because of that, even Zune's horrendous design doesn't bother me.
It's NOT because there's no version for the Mac. You'd think this would be a deal-breaker, but it's not. If Zune was compelling enough, I'd install Windows on my Macs and use it that way. Not an ideal solution but, I update my iPods only before I go on a trip, so I could probably stand to use Windows just long enough to update my Zune.
It's NOT because Microsoft has a shitty reputation for their handling of Digital Rights Management. In my opinion, ALL DRM is crap, and the fact that Microsoft developed their "PlaysForSure" solution and then totally abandoned it for something fresher on Zune is just the price you pay (I guess "PlaysForSure" is now "PlaysForShit?"). Most of my music is from CDs anyway, and what few tracks I do have from Apple can be made DRM-free if you have the patience to research how.
So what is it? What possible reason is keeping me from buying a Zune? If you care, the answer is in an extended entry...
Why no Zune for Dave?
BECAUSE IT HAS THE STUPIDEST NAME FOR A DEVICE EVER!!!
WTF?? I realize that Microsoft is always playing catch-up and is constantly late to the game... but you'd think that even they would have the sense to know that "Zune" sounds dated and stupid, stupid, STUPID. I fully expect that the next-generation of their players will be called "X-TREME ZUNE" or some other antiquated and lame market branding that sucks ass. What IS the thinking here anyway? Dude!! It's like "tune" but with a "Z" dude!! How awesome! You can listen to your muZic and watch your movieZ and view your picturZ on a Zzzzzzzune!
I would be f#@%ing embarrassed as hell whenever somebody asked me what media player I use. I'd probably run away in shame rather than answer. Sure "iPod" is a bit strange, but at least it's historically cool. You've got POD PEOPLE... cool. You've got OPEN THE POD BAY DOORS, HAL... cool. Keep looking and "pod" is used as everything from slang for marijuana to a cool album name by Ween. What does "Zune" do for you? NOTHING. Even Google, who knows everything, asks you "Did you mean: zone?" if you do an image search. How lame can you get?
It sounds like something out of a bad science fiction movie.
Or maybe a comic book from 1964. Well, kinda.
You see, "Zoon" is the name of the home planet for Legion of Super-Heroes member Timber Wolf (and probably did sound like a cool name for a planet back in the 60's). Timber Wolf started out as Lone Wolf. He's kind of like a "Wolverine-light" in that his super-powers consist of kicking ass...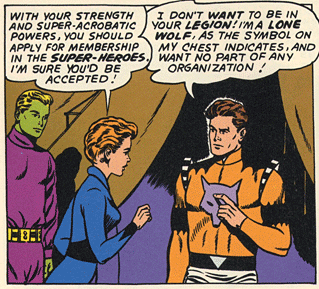 As with all new super-hero introductions, there was a big misunderstanding at the beginning. Everybody thought he was a super-criminal, but it turns out he wasn't. Lone Wolf was also brainwashed into thinking he was a robot, which wasn't the case either (you know how comic books are)...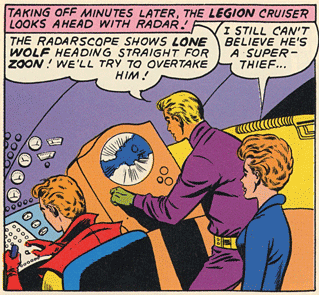 But all that eventually sorted itself out. Lone Wolf changed his name to Timber Wolf, gave himself a tougher look, and eventually became a totally bad-ass Legionnaire. And, even though it's a thousand years into the future, only Timber Wolf has the stones to tell it like it is...
So, if Microsoft were releasing their media player in 1964... "Zune" would be a perfectly cool name. It might even be okay if they were trying to ride the "X-treme Marketing" wave of five years ago. But for today, it's just sad. There is simply no way you can make "Zune" sound cool in any capacity. I can't imagine anybody wanting to buy anything called "Zune" and can only hope that Microsoft's new project goes down in flames very quickly so I won't have to be annoyed with the inevitable advertising campaign they're going to inundate us with. DUDE! YOU'RE GETTIN' A ZUNE!!
If Apple would get off their asses and give us a decent screen for video in an iPod, I wouldn't have to worry about this stuff in the first place. Bad Apple. BAD!!
BLOGOGRAPHY FLASHBACK ENTRY: Suffrage
BLOGDATE: February 15, 2005

In which Dave examines the ever-changing roles of the sexes in comic books throughout the years, and speculates that the future is not so bright for the hairier, smellier sex.
Click here to go back in time...