I do not like to shop. Therefore, I do not like the mall. And, let's face it, once you've been to Mall of America, all other malls kind of pale in comparison anyway. But I had time to kill while I was waiting for work yesterday, so off to the mall it was.
Which was a mistake.
Because mobile phone carrier competition has reached such absurd levels that salesmen are happy to chase you down the mall screaming "HEY BUDDY! HEY! WHAT CELL PHONE DO YOU HAVE? NEED A BETTER PHONE?" Having been through this before, I know better than to answer, and try my best to run away before I get the urge to take their phone and kick it up their ass.
Anyway. Since I didn't go to the mall to buy anything, I instead do what I usually do... I observe.
Eventually I ended up walking into a jewelry store so I could try to figure out what typeface they used on their signs. While I was there, I overheard some poor bastard trying to buy an engagement ring. From appearances, this was a hard-working, blue-collar gentleman who didn't know anything about jewelry, but did know that he loves a woman enough to want to marry her. He loves her so much that he is willing to sacrifice a massive chunk of his precious income so she can have something pretty to show her friends. He looks at a ring and thinks not about all the things he has to give up in order to buy it, but what he will gain because of it. It's hopelessly romantic and incredibly sad at the same time.
It reminded me of when Liz over at Everyday Goddess wrote about letting go of the engagement ring, and I have to wonder how it came to be that proving the depth of your love is intrinsically linked to how much money you can spend. Then I take the time to actually read the signs I was looking at, and everything becomes clear. It's shame. Jewelry manufacturers shame you into it. If you love somebody, you prove it by buying gold and diamonds... love alone isn't enough. Suddenly I don't see the romance in it at all, and am just sad.
It all balances out though, because as I was leaving the mall, I saw this little gem of a wall calendar...
What's interesting here is that all of the photos are older shots where she was brutally hot... none of the newer, anorexic, meth-addict-looking photos are included...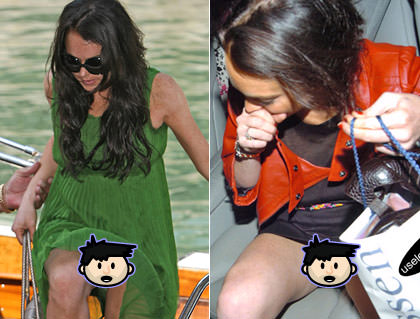 Toxic taco photos stolen from Avitable.
And with Lindsay flashing her coochie everywhere she goes, I have to think that this calendar would be a serious disappointment to its intended audience of horny 12-year-old boys who have become fans of something other than her movies and music.
Music that makes. Me. Want. To. Scream. (In an extended entry, that is)...
In other news, I just found out that the video for Michael & Janet Jackson's Scream is available at the iTunes Music Store. The most expensive music video ever made (a cool 7 MILLION dollars), it features Janet looking disturbingly hot and Michael looking... errr... disturbing.
I'm amazed at how convincingly Janet can pull-off being a bad-ass, whereas Michael just looks... well, not so-much. Still, it's a cool video I'm glad to have. Sadly, it looks a little pixelated, and I have to wonder if this is typical of Apple's new 640x480 downloads? I hope sure hope not. Though that complaint takes a distant back-seat to the fact that you don't get an audio-only version of the song to put on your iPod shuffle since it can't take a video file. And having to buy a song twice...
Makes. Me. Want. To. Scream.