Most of the Elizabeth Hurley Google News Alerts that fly across my desktop now-a-days have to do with the fact that Liz is planning to wear 13 dresses on the occasion of her 4-day wedding which is taking place in England and India.
Depressing? Yes. But a bit of happier news occasionally pops up.
Such as Ms. Hurley's appearance at Elle magazine's 21st birthday party...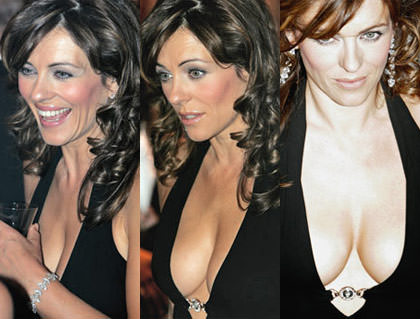 The amount of force that's bearing on that tiny little clasp must be enormous. I can't even imagine the mathematics you would use to calculate the stress levels. Perhaps there's a subset of quantum physics devoted to Elizabeth Hurley's breasts I should be studying?
My back is feeling much better now, as I am able to make it through the day without getting drugged up.
I suppose that means I should stop taking the painkillers.