Lately I've been addicted to the line of 3-in-1 body wash/shampoos from Philosophy. I was given a set when a friend moved away and recently rediscovered them... I then bought a couple of new bottles that arrived this week.
Nothing perks up your morning faster than washing up with yummy flavors like "Hot Chocolate" or "Cinnamon Buns" or "Frozen Lemon Custard". It's also kind of nifty that my first decision of the day gets to be something as entertaining as "do I want to smell like a Key Lime Pie or a Waffle Cone this morning?"
But today, for some strange reason, I couldn't decide on a flavor. Rather than stress about it, I mix-n-matched to create my own. Here's the "Dave Chocolate-Strawberry Ice Cream Cone" I came up with...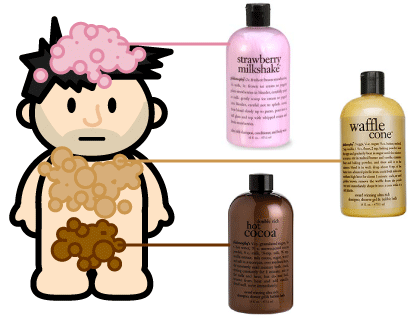 It's one part "Strawberry Milkshake" with one part "Hot Chocolate" and two parts "Waffle Cone". Pretty sweet! The smell washes away fairly quickly after the suds disappear, so I don't have to smell like this all day.
This is probably a good thing, because tomorrow I'm going to try out "Dave Fruit Loops" with equal parts "Strawberry Milkshake," "Key Lime Pie," "Frozen Lemon Custard," and "Mimosa".
Sure four flavors are a tricky maneuver to manage while in the shower, but I'll be even more delicious than I usually am!