Blargh!
I don't know if it's because I've been in pain and have had an overwhelming work load or what... but lately I've been wanting to destroy quite a lot of people. It seems that just about everybody I meet is in desperate need of dying and I have no idea what to do about it.
Except kill them, of course.
But, in addition to laws that frown upon such activities, I also try to live my life according to Buddhist principles which are opposed to killing for any reason. Even if the person is incredibly stupid and deserves it. Stewie on The Family Guy always makes death and destruction look like so much fun, so perhaps I should give up my beliefs and get into politics?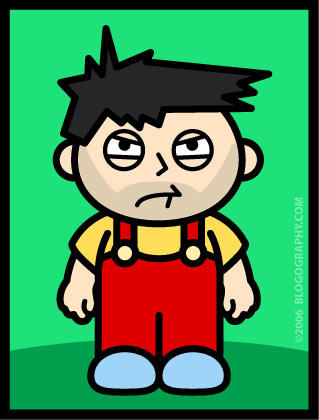 Something has to be done.
Because this morning I woke up very early, worked for a while, then decided to take a nap before going into the office. It was a great plan which, unfortunately, was foiled by the dumbass geriatric husband & wife neighbors who like to scream at each other. Usually I can ignore them, but this time they woke me up up and I was furious. I tore open the window and screamed "SHUT THE F#@% UP!" in their direction, hoping that they would at least have the decency to go inside and tear into each other like normal people.
Little did I know that some of my elderly neighbors were observing the mayhem directly under my window.
All of a sudden I was the new topic of conversation, which hasn't happen since my car alarm went off eight months ago. This opens a new can of worms that I really don't want, so I decide to give up on sleeping and hop in the shower before one of them decides to come knocking.
When I leave, the old couple has found something new to yell about, and one of the neighbors is waiting. "Was that you with all the screaming this morning?" she asks. "No ma'am" I reply, "I think you have me confused with our neighbors." This is not the answer she wanted because, of course, she knows it was me but, short of calling me a liar, all she can say is "Well, some people around here need to be watching their mouth!"
Yeah, she needed to die quite badly too.