Having a blog can sometimes be insanely strange in ways you would never suspect. Well, I never suspect it because I can't believe that people bother to read Blogography in the first place, but mostly because of the reactions I get from some of the people who do read it. I get the most bizarre, odd, scary, freaky, and otherwise disturbing emails and comments that you could possibly imagine. For the most part, I just don't care, because the nice comments and emails more than make up for the few nut-jobs who try their best to spoil things. But every once in a while something comes along that baffles me completely.
Take last week, for instance.
As I mentioned before, this past March one of my totally sweet blogger-friends, Kachina, wrote a very nice entry singing my praises and talking about how much she enjoys Blogography. It was titled "Things I Think Are Great: Number One" and, apparently, is part one in a one-part series. It's understandable that she never wrote a "Number Two" because she started with ME... arguably one of the greatest things ever... and had nowhere to go but downhill.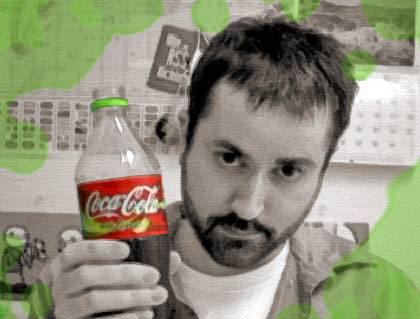 Anyway, after reading such wonderful things about myself, I was compelled to leave a comment...
I wish I possessed even a tiny amount of humility so that I could at least pretend to be humbled by such kind praise, but my ego simply doesn't allow for it.

As it turns out, I AM totally great.

If I weren't me, I'd be wishing I was me. But since I am me, I just have to be satisfied with wishing I was more me than I am right now. If I were three times more me than I am, I think I'd be pretty much perfect.
Now, when I write smart-assed crap like that, I assume that people understand I am being sarcastic.
Apparently, this is not the case.
Because while I was goofing off working in Seattle last week, I received an email telling me that they had been referred to my blog by Kachina's entry and felt they had to set the record straight. Among the highlights were...
I am not particularly good-looking.
I am not particularly funny.
I am not particularly nice.I am not a very good vegetarian if my diet includes Coke with Lime.
In short, there are many other people I should be wishing to be other than me.
Uh huh.
It's almost as good as the time I wrote about constructing a 50-story tall monument to myself made out of Italian marble with a roller coaster, movie theater, revolving restaurant, and sacrificial altar inside. I immediately received a comment telling me that my recent travel problems were a direct result of my wanting people to idolize me, and that I was "stealing glory from God" and incurring His divine wrath.
Yeah, I deleted that one.
So now I am trying to come up with a way to let people know that I am being a sarcastic ass when they are just too dense to realize it. Because when there is somebody out there who thinks I am actually planning on demolishing Mt. Rainier National Park so I can build a 50-story tall monument to myself, well, obviously something needs to be done.
Because hunting them down and giving them a nice bitch-slapping is way too much work.