I am a huge fan of animation and have done my fair share of goofing around using both traditional hand-drawn and 3-D computer techniques. The problem is that animation is hard to do well, so I usually get frustrated and give up. Still, it's proven to be valuable experience, because it has made me better at story-boarding and character design (which is work I really enjoy).
Recently I've fallen in love with the idea of making my own animations again, and have decided to see what I can do with the hefty DaveToon library I've accumulated from my blog over the past couple of years. At first I was going to do everything in 3-D, but that quickly fell through because the 2-D nature of my simple drawings didn't look very good when translated. So now I've been messing around with 2-D cell animation and find that it isn't much easier. The characters were never intended to be animated when I first created them, so everything looks a little strange when I attempt it.
But, after a drawing up a few dozen pages of movement animatics and character structure, I'm getting much closer to being able to make DaveToons come to life. Here's a page showing the frames of a simple head-turn...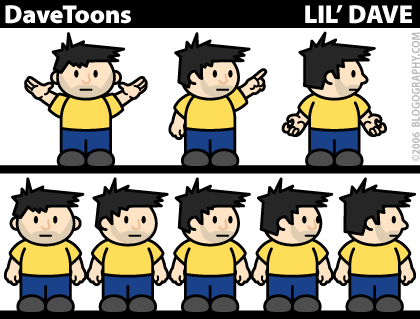 And here's an attempt at restructuring Bad Monkey for movement...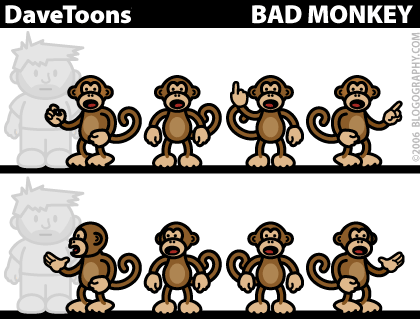 At this point I still don't know if it's going to work. Hopefully I'll get it figured out after another two dozen pages.
Anyway...
Fortunately, Steve Job's keynote speech at Apple's World Wide Developer's Conference didn't result in me going bankrupt. No widescreen Video iPod. No super-cool iPhone. No iPod Car Stereo. Just the release of the impressive new Mac Pro machines and a peek at the X-Serve server specs. This really makes sense, because consumer devices like iPods and iPhones don't really belong at a software developer's conference anyway.
The highlight of the keynote was, of course, a sneak peak at the next version of the MacOS X operating system, code-named Leopard. Steve was very clear that they would only be showing a few of the features that they have planned, because they need to have a few surprises left in store for the product launch.
Holy crap.
If THIS is the cool stuff that they are willing to show us, then heaven only knows what else they're going to pack into the OS when it ships next Spring! Once again Apple totally blows by Microsoft Windows, which is still trying to copy the previous version of the MacOS with their ever-delayed "Windows Vista" OS (which, in my mind, is rip-off because it's mostly a bunch of security fixes that SHOULD have been put in Windows XP). Why anybody would still want to cling to that lamer imitation is a complete mystery to me. Every single time I am forced to use my Windows PC, it's like stepping back in time... even when I am using the "Windows Vista" beta. Apple revolutionizes their OS nearly every year, whereas Windows just continues to lag behind and stagnate. "Vista" ain't going to change that, because paying for a bunch of security fixes and an outdated GUI simply isn't worth it. I can't help but wonder how many people will switch to the Mac after seeing what a total disappointment "Vista" is turning out to be when compared to how rippin' cool Leopard is.
Oh well.
All I can say is that I am amazed at the new "Time Machine" and "Core Animation" tech built-in to the new MacOS, and am thrilled that virtual desktops will finally be built-in as well. Everything else is just beautiful gravy, and I can't wait to see what else we're going to get with MacOS X v10.5!