When I am traveling in a strange place, I notice everything. Few details, no matter how small, escape me when I bother to really take notice of my surroundings. But, when it comes to my own back yard, you might as well forget it. This fact came into vivid relief just this afternoon.
I was leaving the mini-mart after having purchased a Coke with Lime to get me through the day when I hear some people shouting at me. Looking over at them, my keen intellect pegs them as tourists due to the huge motor-home they're standing in front of.
DAVE: Uhhh... yeah?

OLD TOURIST DUDE: What happened up there?

DAVE: Er, where?

OLD TOURIST LADY (pointing): Up there. Up on the hill.

DAVE (seeing a huge blackened swash cut across the hillside): Ah. I dunno. Probably a fire.

OLD TOURIST DUDE: You live here, son?

DAVE: Yes.

OLD TOURIST DUDE: HEH HEH! Then how can you not know if your hills were on fire? HEH! HEH! HEH!

DAVE: I was probably out of town that day.

OLD TOURIST DUDE: HA! HA HAAAAHHH HA HAAAHHH!

OLD TOURIST LADY: HAAAAH HA HA HAAAAHHH!

OLD TOURIST DUDE: HAH! OUT OF TOWN THAT DAY!! HA HAAAHH! DID YOU HEAR THAT PEG?!? HAAA HA HA HA HAAAAAAHH HA HA HA HAAAAHHH!
For the life of me I can't figure out what I said that was so hysterically funny but, one thing was for certain, something had gone on up there...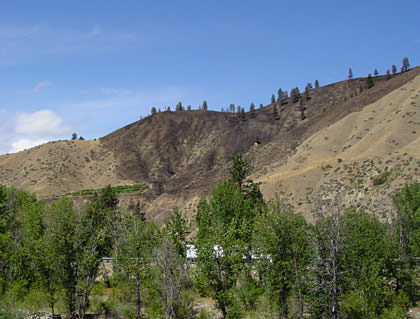 After walking back to get my camera I asked a local what had happened and, sure enough, a fire had broke out while I was bouncing back and forth between Seattle and Spokane a few weeks ago.
The fact that I hadn't noticed before now (and might have never noticed had these two chuckle-head tourists not stopped me) is kind of weak. It makes me wonder what other crazy crap has happened here while I am away that I haven't notice.
One of these days, I'm going to have to be a tourist in my own home town.